Supporting Educational and Cultural Activities
Culture Support Project:Shiki Theatre Company's "Kokorono Gekijo"
MUFG sponsors Shiki Theatre Company's countrywide project "kokorono gekijo". This project embodies the philosophy of "Through the stage, we hope to instill in the hearts of children the preciousness of life, consideration for others, the joy of mutual trust, and all the other important things in life."
In fiscal 2019, approximately 535,000 children were invited to 422 performance of two works, namely "The Story of a Seagull and the Cat Who Taught Her to Fly" and "The Emperor's New Clothes" in 166 cities throughout Japan. MUFG extends invitations to children who are living in orphanages.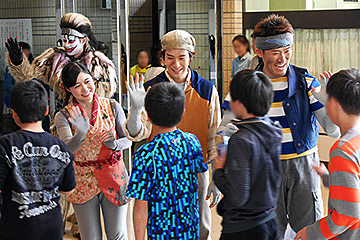 Seeing off the children after the show
Cooperation with the Japan Philharmonic Orchestra
Mitsubishi UFJ NICOS (NICOS) was inspired by the Japan Philharmonic Orchestra's activities to promote cultural communication through music and, since November 2012, has been providing special sponsorship for regular concerts.
Moreover, to provide a small measure of relief to the hearts of those affected by the Great East Japan Earthquake, NICOS has also been organizing performances at temporary housing complexes, elderly care facilities, schools, and other venues in the areas affected by the disaster. By March 2020, the Orchestra had performed concerts in 152 different venues.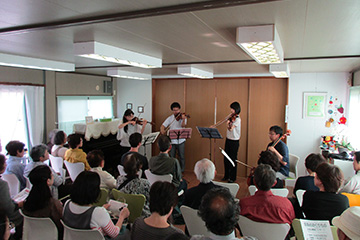 Visiting concert in areas affected by the Great East Japan Earthquake
Sports Promotion and Support for Charitable Organizations
Power to Inspire Story -The Real Stories of Athletes Always Challenging Themselves-
At the fundamental level, sport provides an entertaining way for people to compete against each other in physical one-upmanship. But sport can also have a deeper impact, providing opportunities for personal growth and social transformation. Athletes have more than just fun on their minds as they entertain spectators with their physical feats; they also have broader goals and visions they hope to achieve through sport.
This "Power to Inspire Story", inspired by the words of Nelson Mandela who lived for human equality and world peace, is the real stories of athletes always challenging themselves. Please listen to their hopeful words.
Power to Inspire Story -The Real Stories of Athletes Always Challenging Themselves-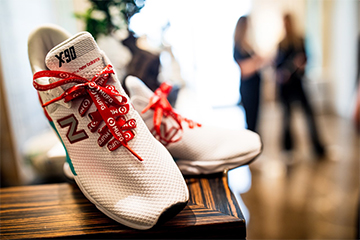 MUFG Become Global Partner of Laureus.
Laureus Sport for Good is a charity which was founded in 2000 with the objective of solving social issues by using the power of sport to end violence, discrimination and disadvantage, proving that sport can change the world. We are looking forward to joining Laureus in their mission to use sport to make a positive impact around the world.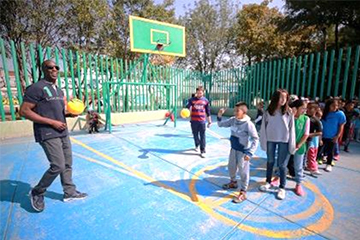 Laureus Project Mexico City
Support for Sports for Disabled Persons in China
MUFG Bank (China), Ltd., in a joint effort between 11 companies of the Mitsubishi Group in China, the China Administration of Sports for Persons with Disabilities and China Foundation for Disabled Persons, has staged the Mitsubishi Friendship Cup - a soccer tournament for disabled persons - since 2015.
Originally established with the objective of promoting physical education activities for disabled persons in China, the Mitsubishi Friendship Cup has grown to become recognized throughout China as a sporting event for disabled persons.
Held five times so far, the Mitsubishi Friendship Cup has attracted participation from a total of almost 100 teams and more than 5,000 athletes.
Since its implementation in October 2019, the Mitsubishi Friendship Cup has come to be recognized as a people's soccer public benefit project by the Chinese Football Association.
As a corporation rooted in China, MUFG Bank (China), Ltd. is committed to actively engaging in such activities and contributing towards China's development.
State of the opening ceremony
Sponsorship of Special Olympics Nippon
MUFG Bank and Mitsubishi UFJ Trust and Banking sponsor Special Olympics Nippon Foundation, an international sports organization that supports the participation of people with mental disabilities in social activities by providing them with everyday sports training and opportunities to compete.
Employees serve as volunteer staff in tournaments sponsored by Special Olympics Nippon and support tournament management.
Employees at MUFG Bank's Niigata Branch serve as volunteer staff to support tournament management.
Mitsubishi UFJ Trust and Banking volunteers worked with the basketball team,
in a tournament sponsored by Special Olympics Nippon Tokyo.
MUFG Junior Tennis Tournament
With the aspiration of supporting children in realizing their dreams, MUFG Bank (the Bank) has been supporting the MUFG Junior Tennis Tournament, which is endorsed by the Japan Tennis Association, since 2013. The tournament has a 38-year history, and is seen as a gateway to success for junior players. Those who give an outstanding performance may have the chance to try their skills overseas.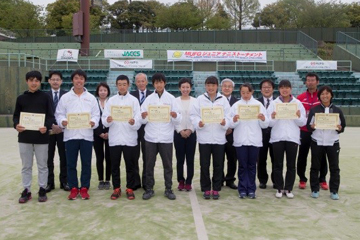 Hosting the MUFG Graduation Memorial Cup Soccer Tournament
Each year, MUFG sponsors the MUFG Cup, a youth soccer tournament for sixth-grade students about to graduate from elementary school in Tokyo, Aichi, and Osaka. The concept for this tournament is to use sports as a way to foster friendships among soon-to-graduate students and to develop an appreciation of others.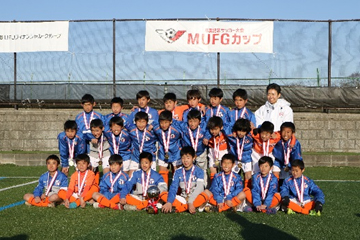 Educational Support and Charity Activities
Acom "Miru" Concert Monogatari
ACOM has been inviting local citizens to "Acom 'Miru' Concert Monogatari" performances all across Japan. Ever since the first performance was staged in 1994, more than 230,000 people have enjoyed upwards of 240 performances. The concerts are truly original works of art that integrate colorful silhouettes and live renditions by a piano trio (piano, violin, and cello) with narration. Moreover, the concerts are held as barrier-free events, with sign language translation provided on stage and ample wheelchair places secured in the auditorium, making it possible for everybody to have a good time.
Note:A barrier-free concert to be felt through the eyes, ears, heart, and body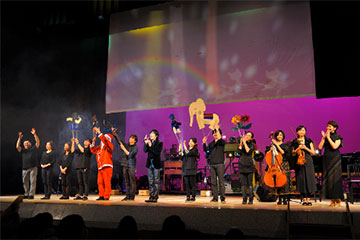 "Silhouette" and a piano trio performing "Katari" together live
Participation in FIT For Charity Run
The Financial Industry in Tokyo (FIT) For Charity Run is a fun run organized as a volunteer charity event by employees at companies involved in the financial services industry. The participation fee paid by the employee and cooperation fee provided by the companies of participating runners is donated in support of "organizations that have roots in the community and implement socially significant activities, but are unable to secure funding to support their activities due to lack of recognition and other problems."
MUFG has been participating in the event since it was held for the fifth time in 2009. In January 2020, 1,100 employees from 20 group companies participated.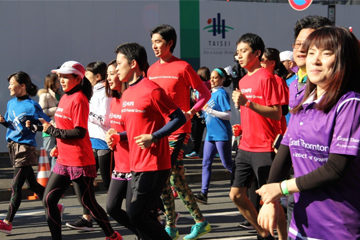 Lots of MUFG employees participated
Through the Christmas Card Project, send Christmas cards to children in long-term medical care in hospitals across Japan. Every year since 2012, employees at Mitsubishi UFJ Morgan Stanley Securities and Morgan Stanley MUFG Securities have been making Christmas cards and sending them to children as presents.
In December 2019, employees of both companies made over 250 Christmas cards, using colored pens, stickers and origami, and sent them to children in long-term medical care in hospitals across Japan.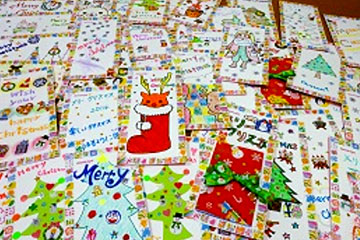 Christmas cards made by employees
Mitsubishi UFJ Morgan Stanley Securities (the Securities Business) and Morgan Stanley MUFG Securities take part in planing the surfaces of wooden blocks (tsumiki) and donating them to kindergarten children. In the June 2019 Tsumiki Project, 147 employees at 19 branches of the Securities Business produced 300 tsumiki pieces (1.5 boxes) between June 10 and June 21. On June 26, 50 employees of the two companies gathered in a conference room at Morgan Stanley MUFG Securities to produce another 500 pieces (2.5 boxes). The four boxes of completed tsumiki will be donated to e kindergartens and foster homes.
Supporting Employees' Activities
To support the desire on the part of their employees to contribute to society in various ways, we have instituted systems to support volunteer and donation activities.
Volunteer Leave Program and Assistance
for Activity Funding
We have introduced a volunteer leave program that enables employees to participate actively in environmental contribution activities as members of society. We also provide event funding, money to purchase physical items and other financial support for employee volunteer facilities and organizations that meet certain conditions.
Support for Donation Activities
MUFG Bank Social Contribution Fund (Established 2008)
This fund gives money to organizations addressing social issues and contributing to relief funds in times of large-scale natural disaster, using funds donated by company executives and employees through deductions from their salaries each month. These funds are combined with matching contributions from MUFG Bank.
In fiscal 2019, approximately 7,200 executives and employees participated, donating 66,210,000 yen to 12 groups.
Kakehashi-Shintaku Ai-no-Kikin Fund (Established 1977)
This fund collects membership fees from Mitsubishi UFJ Trust and Banking and affiliated company officers, employees, former employees, and their families to make donations to social welfare organizations nationwide that engage in such activities as welfare for the elderly, healthcare covered by health insurance and disaster assistance.
In fiscal 2018, approximately 6,200 executives and employees participated, donating 7,800,000 yen to 26 groups.
Employee Donations Account (Opened in 2007)
Mitsubishi UFJ Morgan Stanley Securities has an account for collecting employee donations. The company matches the funds donated by employees each year (from July through June). From its establishment through June 2020, the account has donated a total of approximately ¥4.8 million to two organizations.
Donations based on Employees' Ongoing Fund Raising (Established in 2011)
Mitsubishi UFJ NICOS has continued to raise funds based on employees' salary deductions since September 2011 for the purpose of supporting reconstruction following the Great East Japan Earthquake. Through this scheme, which also includes donations by the company, a total of 101,320,000 yen had been donated by FY2019. Currently, the company makes donations to the "UNESCO Association Scholarship for 3.11 Disaster-Stricken Children and Students" and Fukushima University (Fukushima Future Center for Regional Revitalization).
ACOM Bluebird Fund (Started in 1984)
ACOM began this fund based on employee suggestions. Donations of funds gathered via collection boxes installed Companywide and payroll deduction fundraisers include contributions to charities in times of large-scale disasters. As a general rule, the Company makes matching donations.