Sport has the power to improve lives and change the world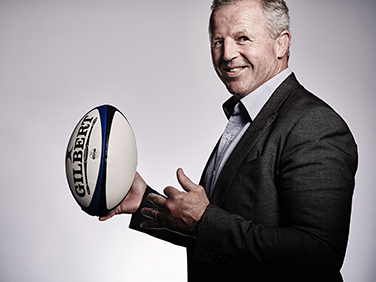 Sean Fitzpatrick
(Former Captain of the All Blacks, Chairman of the Laureus World Sports Academy)
At the fundamental level, sport provides an entertaining way for people to compete against each other in physical one-upmanship. But sport can also have a deeper impact, providing opportunities for personal growth and social transformation. Athletes have more than just fun on their minds as they entertain spectators with their physical feats; they also have broader goals and visions they hope to achieve through sport.
One athlete who embodies this characterization is former All Blacks captain Sean Fitzpatrick, who currently serves as chairman of the Laureus World Sports Academy.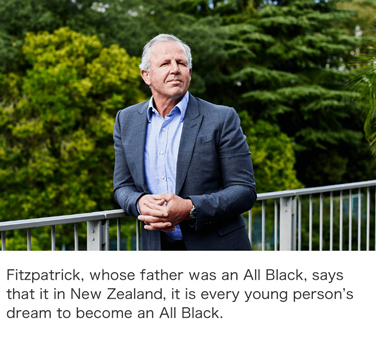 Good people and good teams create results

Although Fitzpatrick's legendary status may lead one to imagine a towering hulk of a man, in reality, he is a "mere" six feet tall. Yet, his massive pectorals—the buttons of his jacket threaten to pop off at any minute—are exactly what you would expect of a rugby player, and the fact that he maintains such as figure at the age of 56 is quite remarkable.

"They're only half of what they used to be," he jokes. In person, Fitzpatrick is funny and big-hearted, capable of enticing even strangers to open up. He was an All Black from June 1986 to November 1997 and served as captain in his last five years. Today, he is chairman of the Laureus World Sports Academy, an organization that has attracted sporting legends from around the world. They include soccer players Franz Beckenbauer and Shinji Kagawa, tennis players Boris Beckerand Ai Sugiyama, golfer Jack Nicklaus, pole vaulter Sergey Bubka, Formula One driver Mika Häkkinen, and gymnast Kohei Uchimura. They all share a common goal: to use the power of sport to contribute to society and make the world a better place.

"As we say in the All Blacks, good people make good teams," says Fitzpatrick. "When we invite new Academy members, they must be very good at their sport, but the most important thing is that they want to be involved in the work of Laureus Sport for Good. We like superstars, but if they don't want to be involved in Sport for Good, thank you but no thank you."

Laureus Sport for Good is what you might call the heart of the Laureus organization. For example, one the best-known events sponsored by the Academy is the Laureus World Sports Awards, established in 2000. Known as the Academy Awards of the sport world, the event honors athletes and organizations who are active around the world. Past recipients of the event's Sportsman of the Year award include Tiger Woods, Roger Federer, and Usain Bolt. It is a glitzy, glamorous event—but its true purpose is to promote Laureus Sport for Good'sprogrammes fighting social issues and conflicts around the world.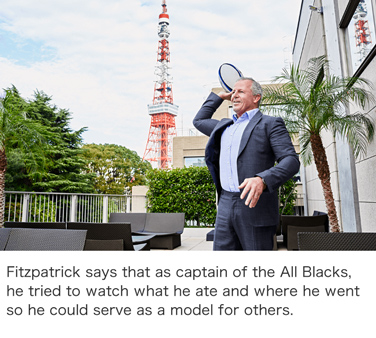 Inspiration from Nelson Mandela

"I participated in a project in 2005 in Sierra Leone," Fitzpatrick says. "It was after the civil war had just ended. The rebels were using children as child combatants—as human shields. I took a rugby ball and visited villages, where I said to the children, 'You have the right to play sport. You have the right to smile. And most importantly, you have the right to dream.' When you run around the field with a ball, you can easily forget about the things you hate. I believe that sport has the power to improve lives and change the world. Purely through playing sport, their lives were changed."

Laureus Sport for Good supports more than 180 sports-based community programmes in over 40 countries. Fitzpatrick says that in visiting these programmes, he has taken to heart a certain quote by Nelson Mandela: "Sport can create hope where once there was only despair."

He gives us an example: "In Hong Kong, we have a rugby project called Operation Breakthrough. Troubled boys come before a judge and are told, 'You are going to prison, but you have one other choice: You can go to the rugby club.' So they go there, they get fed, they get some clothes, and they learn to respect people. Now, we have policemen who have come out of the project.

"Sport can provide motivation and, in some cases, change people's lives for the better. It can break down a generation of illiteracy, a generation of unemployment, a generation of crime, and a generation of beliefs that cause conflict. Through sport, we can provide children with a sense of opportunity."
Effort paves the road to the next stage
According to Fitzpatrick, there is a lot that sport can teach us.

"In my case, rugby gave me honesty and a goal in life," he says. "It taught me to push myself and to never give up. It taught me respect, integrity, to look after your teammates, and to take responsibility in what you need to achieve and in terms of what you need to deliver. It taught me how to lose and, more importantly, it taught me how to win. But sometimes, you learn more through losing, because to be a good winner, you need to be a good loser. I do like winning, though."

He says there is more than just effort that goes into winning.

"People think sport is this fun thing to do, which is nice, but professional sport is no different than any other business. It takes a lot of effort, preparation, and, unfortunately, with that degree of preparation comes sacrifice. There may be at times that one might look arrogant with too much pride when playing a game. But that might also take a lot of effort as well. Of course, one should have such pride only in a field. For an All Black, playing for the team is the most important thing in your life. In my case, for 12 years, it was only All Blacks, only rugby. Nothing else. Work was number one and family was number two. So you need to make sure you find a good partner, and that your children understand."

Sometimes, of course, all the practice and sacrifice in the world is not enough to lead to a successful sporting career.

"In our work," Fitzpatrick says, "we always tell children, 'Try and be the best.' Because if you don't succeed, at least you know you've tried your best. And then, when you're not the best—because 99.9% of children aren't going to be successful—then you have to ask yourself, am I really good enough? Maybe I need to try another sport, or maybe I need more practice, or maybe I'm not working hard enough." But focusing on a sport can actually help you discover new path to other things. So I believe it's absolutely not a waste trying hard.

"There is a programme in northern India called Yuwa that we honored with a Sport for Good Award," Fitzpatrick says. "There is this village where, four years ago, 100% of the girls were child brides. These girls were 10, 11, 12 years old, and there was 90% illiteracy among them. Then an American set up a school for girls only, where the girls played soccer. The fathers in the village were very unhappy, because to them, soccer and education were for boys. Now, this has changed. Today, there is not a single child bride in the village. At the Laureus World Sports Awards, one of the girls came to make a speech. Two years ago, she could not speak any English, and now here she was, speaking beautiful English."

In the twenty years since the Academy was established, the world has changed, but so have the social issues that need tackling. Fitzpatrick says that he intends to continue finding ways to solve these problems and change the world using the greatest power he knows: sport.
Born in Auckland in 1963, Fitzpatrick joined the All Blacks in 1986. He made his Rugby World Cup debut just one year later, when the team became Rugby World Cup champions. Fitzpatrick served as captain from 1992 to 1997, after which he retired with 92 caps under his belt. He was made Member of the New Zealand Order of Merit for his contributions to rugby. In May 2016, he was appointed chairman of the Laureus World Sports Academy.
Words: Kosuke Kawakami Photos: Tsukuru Asada
── MUFG Bank supports the children of our future through the activities of Laureus. ──