Sport changes people, the town, and the world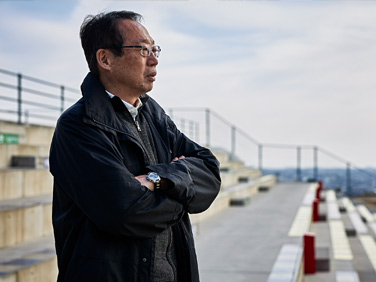 Takeshi Okada
(FC Imabari owner; former head coach of the Japan National Soccer Team)
At the fundamental level, sports provides an entertaining way for people to compete against each other in physical one-upmanship. But sports can also have a deeper impact, providing opportunities for personal growth and social transformation. Athletes have more than just fun on their minds as they entertain spectators with their physical feats; they also have broader goals and visions they hope to achieve through sports.
The former head coach of the soccer Japan National Team Takeshi Okada is now the owner of "FC Imabari", the soccer team in Imabari City, Ehime. His passion to pursue ideal soccer spread to Imabari City, making the whole town excited. What is the "power of sport" he saw as he kept scrambling for the team for five years?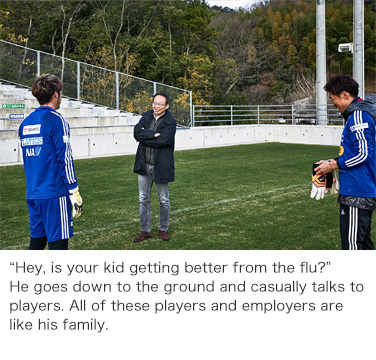 Experimental field to establish the "Okada Method" for players to think on their own and move proactively

Okada drives his private car to the home stadium of FC Imabari, "Arigato Service Yume Stadium" on the hill looking down to the town of Imabari. Although he is the owner of the team, his private car is an old domestic van older than 10 years, looking fully utilized.

"This is still an upgrade. I first got a used car for 300,000 yen. I would hang a poster on the car and run around the city. I also distributed flyers in town. I started it for my own dream, so the first two and half years were without pay. But it became difficult, and now I get paid less than new employees. An owner is not such a high-class position."

The former Japan National Team head coach Takeshi Okada enjoys talking such war stories. The Japan's greatest head coach is now running around for his team every day as the owner of FC Imabari. Born in Osaka, he became the owner of this soccer team in this alien land in November 2014. This career change from coaching to management came from his strong hope to change the soccer community in Japan behind the scene.

"Since the time when I was coaching the Japan National Team, I always thought that few players can think on their own and move proactively. Japanese people are generally not very good at it. For soccer, children are allowed to play freely without being taught anything. Around high school, they are introduced to team tactics. As a result, only players who can move as instructed by a head coach remain and they stop thinking. That is the reason why I wanted to develop players who can think and play well. I came to Imabari to establish this ʻOkada Method.' It may not be a good expression, but it is an experimental field of my method. It did not take long to see various "effects" beyond soccer more than I expected, and I myself ended up having to keep running."

"Fight for championship in J1 by 2025" was the manifesto when Okada took the position as the owner. He called in players and instructors by fully utilizing his human network, and visited companies on his feet and ask humbly to gather sponsors. After FC Imabari joined JFL (JapanFootball League) in 2016, it won 3rd place in JFL in 2019, and its J3 promotion starting in 2020 was determined which was "one year later than expected". Not only to FC Imabari, coaches are dispatched to youth soccer schools and teams of junior and senior high students to contribute to soccer instruction in the community. In 2019, Imabari East High School made its first appearance in the National High School Soccer Tournament as the representative of Ehime Prefecture and went on to reach the best 16.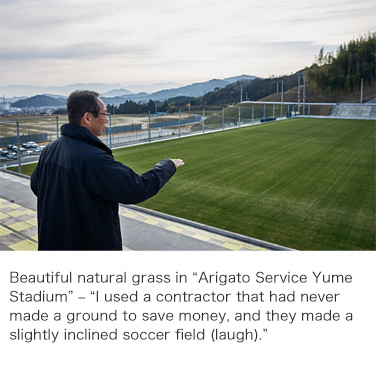 "If soccer in Imabari becomes strong, young people who want to play soccer will gather here. Assuming one pyramid with many players in Imabari including junior and senior high students and youth soccer schools with a professional team at the top, I have been guiding them in a way to make everyone strong. It was difficult to earn their trust in the beginning. People thought that I would go back to Tokyo after a little while. About three years later, people in this town began to cooperate with me. 'Peers' won't increase if you are only working. From my third year, my employees and I steadily tried going out to the town to eat, drink and make friends. Then, people started to acknowledge us little by little. When this stadium was completed in 2017, all the seats were filled with 5,000 people. I found an old lady crying, and asked, ʻis there something wrong?' She said, ʻI was negative when Mr.Okada came. I did not think that you would make the kind of team to be proud of in Imabari.' I was very touched by her words."

FC Imabari's activities are reviving the city. Citizens are becoming inspired by cheering upFC Imabari as the team of "oragamachi (my town)". In the battle of J3 promotion, some citizens offered private donations to sponsor the team. Soccer changes people and the town. Okada says, "The town of Imabari started to go in action". He has been watching its transformation with his own eyes over the past five years.

Experience in crunch time makes people strong
"I read the book of Tetsunosuke Onishi, the former head coach of the Japan national rugby team, and it said ʻsports bring peace in the world'. I believe it is no exaggeration. Sports grow and enrich people. People may expose their fighting instincts within certain rule, but instead of becoming beasts, they fight with all their might while maintaining rationality. They experience crunch times, chances, and defeats. Repetition of such experiences leads to knowing themselves, learning human relationships, and respecting each other. I believe there will be no war if there are more people like this."

Okada refers to his own experiences to emphasize that challenges particularly grow people.

"I was 41 years old when I was asked to serve as the head coach of the Japan National Team in 1997. I had never worked as a head coach and suddenly became one for the National Team. Pressure was heavy and I received a lot of criticism. People kept calling my home to tell me ʻto quit'and my family worried a lot. I was totally resentful at the Association, complaining why I had to suffer this (laugh). But then I just decided to be defiant. ʻI can only do what I can with all of my ability. I will be responsible for the results. Even if it does not work out as planned, however, it'snot my responsibility. It is the responsibility of the Association that made me the head coach.' Then I felt like some switch was turned on. Until then, I would rather not talk in front of people. After I decided to be defiant, however, I did not worry about it at all. I was able to grow because I was pressured to my limit.

I had a lot of crunch times at FC Imabari as well. But when we come to the point where we cannot go any further, employees grow a lot. They may develop a sense of responsibility to initiate things. Nowadays, children do not experience crunch times because many things are just safe, secure, and convenient. By experiencing crunch times in sports, a little switch is pushed. I believe they will grow into strong people."

Hope to create society for the next generation to cherish invisible things
Okada is already looking at J2 then J1. A stadium with the capacity of 15,000 people or more is required for J1 promotion. Pointing the empty lot located one step below the home stadium with beautiful natural grass, Okada pleasingly says, "We plan to make a new stadium for J1 over there".

"I am hoping to make it a complex facility gathered by people every day of the year. It will be a place that has a theme of sports, health, and education, where you can enjoy many sports including soccer and learn various things. You can also shop, eat and visit with your family to spend a day. It will be a major project, but I will certainly realize it. My team needs to work harder for this purpose."

As he talks, his eyes looking down at the town are shining like a dreaming youth.

"Every day is certainly a busy day. So many things happen with such a small team. We are always short of money, making me run around for sales. And my wife gets mad at me at home (laugh). Still, I am very happy because I have something to get excited about every day at this age when people are usually in retirement. I am thankful to the employees and players who follow my boasting, as well as companies and people in Imabari. I went to observe young players in the lower organization during practice the other day, and everyone approached me with a smile saying ʻHi Owner!', and I shook hands with each of them. It was a wonderful feeling of ʻyes, they are players of my team'. I would not have felt this way if I was only pursuing profits. I feel wealth means richness of heart that cannot be expressed with numbers. I hope to create a ʻsociety for the next generation' who cherish invisible things like sympathy, excitement, and trust. Sport is definitely necessary for this purpose and has the power to change and enrich society. I hope that Imabari will first become such a town. I'm going to keep running for it too."

After talking, Okada left in his van for the next appointment as he was saying. Anyone will want to cheer him up if he talks with his friendly smile and enthusiasm. Okada is going to start a "revolution" through the "Okada Method" in the small town of Ehime. Imabari is starting to be transformed with soccer as the trigger. If this revolution is successful, it will eventually change Japan and the world.

Born in 1956 in Osaka Prefecture. After leaving great results as a defender for the JapanNational Team, entered the path as an instructor. Appointed as a head coach for the JapanNational Team in 1995, and selected as a successor head coach after Shu Kamo in 1997 in the middle of the final qualifier for the World Cup. Led Japan to its first appearance in the FIFA World Cup. Subsequently held head coaching positions at Consadole Sapporo and Yokohama F Marinos. Became head coach of the Japan National Team again in 2007 and led the team to advancement to the 2010 FIFA World Cup tournament. After serving as the head coach of the Zhejiang Greentown Football Club in Chinese Super League from 2012, became the owner of FC Imabari in 2014. The team was successfully promoted to J3 starting this season. Currently holding the position as the representative director and chairman of Imabari. Yume Sports Co., Ltd.

Photography: Tsukuru Asada

── MUFG Bank supports the children of our future through the activities of Laureus. ──