Power to Inspire: SPECIAL TALK. Alessandro Del Piero x Cafu
There are still many things we should and can do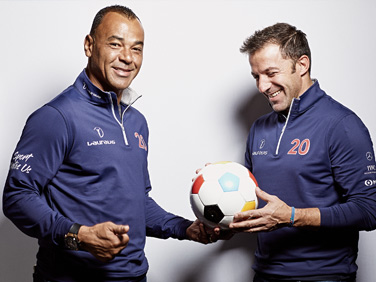 Alessandro Del Piero x Cafu

(Former professional soccer players; members of Laureus World Sports Academy)

At the fundamental level, sport provides an entertaining way for people to compete against each other in physical one-upmanship. But sport can also have a deeper impact, providing opportunities for personal growth and social transformation. Athletes have more than just fun on their minds as they entertain spectators with their physical feats; they also have broader goals and visions they hope to achieve through sport.


Alessandro Del Piero and Cafu brought joy and excitement to the soccer world for many years. As members of Laureus World Sports Academy, they are now using their platform and knowledge to inspire young people around the world, and supporting the life changing work of Laureus Sport for Good.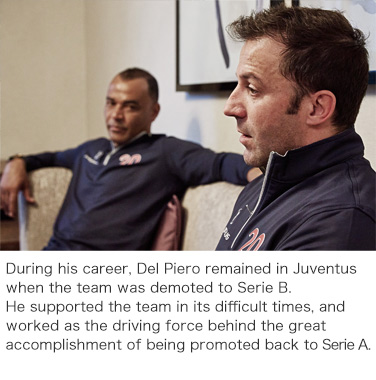 Laureus gives me purpose

Serie A, the top tier of professional soccer in Italy, was without doubt one of the world's leading soccer leagues from the 1990s to the beginning of 2000s. Matches featuring international players were aired on TV worldwide including Japan, and those players became world-class stars. Two of the league's most popular players during that period were former Italy captain Alessandro Del Piero and the former Brazil captain Cafu. They competed many times as rivals on the pitch, and now they unite off it as members of the Laureus World Sports Academy, using the power of sport to transform the lives of young people around the world.

Del Piero: Laureus first contacted me in 2006 when we won the World Cup. I was very interested in learning more about Laureus' charity projects; however I wanted to focus on soccer during my career years. That is why I joined the Academy in 2016 after retiring in 2015.

Cafu: I joined the Academy in the same year. Laureus started some new projects in Brazil prior to the Rio Olympics, and I helped them.

The former rivals are now friends. They talk with each other smiling and laughing. They were reunited in Berlin, Germany, where the 20th anniversary Laureus World Sports Awards took place on February 17, 2020.

Cafu: The wonderful thing that happened to me by participating in Laureus activities is that I was able to meet sports legends outside of soccer and talk with them about different things. It enriches my life by meeting them and listening about their stories during their careers and after retirement. Various Laureus activities are certainly giving a bright future to many people, and it is actually myself who is enjoying it a lot.

Del Piero: I am also grateful to the Academy for inviting me. There are many athletes who vaguely think about contributing to society through sports, but if they are like me, they don't know what and how to do specifically. Laureus gives me opportunities to visit programmes, including my participation in a project to support young people with disabilities hosted by Laureus Italy. Cafu, what are your normal activities?

Cafu: I support for Laureus' activities in South America. I go to each country and learn about the different programmes Laureus supports. I established my own foundation in Brazil in 2004, and have supported 950 children mainly with sports such as soccer, dance and capoeira in addition to arts and job training, and Laureus supports me in this challenge of mine.

Del Piero: Wow, that's so exciting to be able to help your home country. I live in the U.S. now, but would be the first person to go to Italy if anything came up.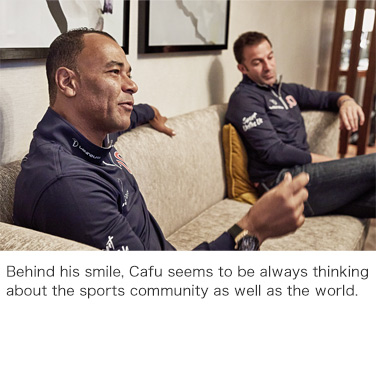 Great things that can only be accomplished by sports

Cafu: Soccer players should be able to take a major role in Italy, just like Brazil. It is particularly true for a star player like Alessandro (laugh).

Del Piero: In Italy, each province has a very different culture. There is also a conflict between the north and south. Unity is very difficult, but people are united when it comes to soccer. It may be for just a short time, but sports can unite the nation. Arts and sports are special for Italians. They are moved by listening to music and pour their energy into soccer. They give hope and love to the people of Italy.

Cafu: It is true in Brazil as well. Brazil won Copa America last year and also got through the preliminary round for the Tokyo Olympics in February of this year, making us all excited. Some people were opposed to the Rio Olympics and World Cup in their own country; however, it ended up increasing the number of tourists and corporate results of Brazilian companies also improved. Most of the infrastructure also remained and I am sure that they were advantageous to the country.

Del Piero: They are not only economic advantages, right?

Cafu: Of course. Rafaela Silva who won a gold medal in judo at the Rio Olympics grew up in a slum area in Rio de Janeiro and is LGBT. Her accomplishments had a great influence on children in Brazil, as she is like a symbol of diversity. The gap between rich and poor is wide in Brazil, and management of the nation is always unstable. However, they successfully hosted the Olympics. This great accomplishment is something that could have been done only by sports.

There are still many things we should and can do
It's also true that the sports community still contains many problems. Retirement from sport is a huge challenge for athletes around the world. They may hit the wall of a second career after retirement. Del Piero and Cafu say that they are also actively working on these issues.

Del Piero: There is a saying that "athletes die twice", and I think it is really true. They die upon retirement as players, and then they actually die. When athletes retire and lose their routine and income, many of them suffer mentally. I think Laureus should open seminars on second careers for these athletes. There should be opportunities to utilize their skills and experiences for the next generation.

Cafu: We were able to envision our future after retirement when Laureus approached us. I hope that many athletes will have such an opportunity. We may be able to support them to start learning to become coaches, trainers or agents at the stage before the career as a player ends. It should give motivation to older athletes.

Del Piero: There are more issues to be solved in addition to the second career.

Cafu: Gender equality is one example. The sports community is still far from gender equality. Males are treated better when it comes to prizes and have more players. It is difficult to suddenly change the world of professionals, so I hope to work on gender equality in the sports community for the younger generation.

Del Piero: The world will be transformed if the sports community changes.

Cafu: I believe so too. Although we retired, it looks like there are still many things we should and can do!

Alessandro Del Piero (right)
Born in 1974 in Italy. Played in the honorable Juventus in Serie A from 1993 to 2012, appeared in 513 games, and scored 208 points. Represented Italy from 1995 to 2008 and appeared in three World Cups. Greatly contributed to winning the 2006 World Cup in Germany. Retired in 2015 and currently lives in the U.S, engaging in restaurant management, etc.

Born in 1970 in Brazil. Made his professional debut in his hometown San Paulo. Played well in Roma and AC Milan in Serie A. Represented Brazil for a long time, from 1990 to 2006. Appeared in four World Cups, winning two and coming second in one. His position was the right back and right wingback, and his nickname was "a ruler of the right side". Cafu always had a smile on his face while playing, and his smile still makes other people happy even after retirement. Cafu is his nickname and his real name is Marcos Evangelista de Morais.

Words: Kosuke Kawakami Photography: Tsukuru Asada Coordinated: Florent Dabadie

── MUFG Bank supports the children of our future through the activities of Laureus. ──