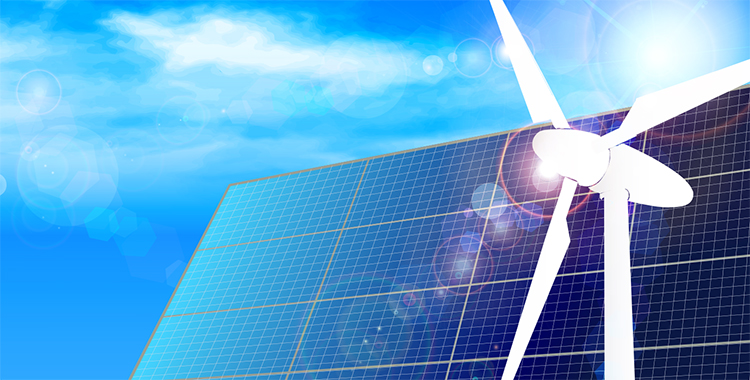 Leveraging Our Financing Function
MUFG is contributing to the development of projects that do not use fossil resources and the dissemination of renewable energy by leveraging its extensive track record and know-how, in addition to its global network, and engaging in initiatives through its core business, such as project finance.
Promotion and Dissemination of Renewable Energy
The introduction of renewable energy as a clean energy source that replaces fossil fuels and the shift away from the use of fossil resources are advancing in countries and regions around the world.
Drawing on its solid track record, abundant know-how and extensive network at home and abroad, MUFG is acting as project finance arranger and lender for solar, wind and geothermal power generation projects. In these ways, we serve as a driving force behind the dissemination of renewable energy around the world. Thanks to these efforts, in 2017 we were able to secure first place in the global ranking of financial institutions serving as lead arrangers in financing for renewable energy projects. We have seized this position for a second consecutive year.
RANK
ORGANISATION
CREDIT
($M)
TABLE SHARE
(%)
1
MUFG
4,343.3
7.96
2
Mizuho Financial
2,417.1
4.43
3
Banco Santander
2,291.6
4.20
4
Sumitomo Mitsui Financial Group
2,242.0
4.11
5
BNDES
2,210.0
4.05
6
Nord/LB
1,695.8
3.11
7
BNP Paribas
1,551.1
2.84
8
Rabobank
1,485.2
2.72
9
Societe Generale
1,230.7
2.26
10
KfW
1,227.6
2.25
Source: Bloomberg New Energy Finance
Solar Power Generation Project in Miyazaki Prefecture
MUFG Bank arranged ¥35 billion in project financing for a solar power generation project in Hosoe, Miyazaki Prefecture. This project is a joint venture between GE Energy Financial Services and Pacifico Energy. The power plant is currently under construction and is scheduled to begin commercial operation in the spring of 2018. The power plant will have a total generation capacity of 96.2 MW and is expected to provide power to 30,000 Japanese households a year. In addition, the plant is expected to offset approximately 68,200 tons of CO2 emissions per year.
The world's largest solar PV project in Abu Dhabi
MUFG Bank(the Bank), together with seven other Japanese and European and regional banks, has financed the world's largest solar PV project in Abu Dhabi, sponsored by Marubeni (20%), Jinko Solar (20%) and Abu Dhabi Water and Electricity Authority (60%). The Bank's roles on the financing included Mandated Lead Arranger, Documentation and Co-ordination Bank and Facility Agent.
The project will have a power generation capacity of 1,177MW, with all power being sold to the Abu Dhabi Water and Electricity Company, under a 25 year power purchase agreement. The project is due to reach commercial operation in April 2019.
Middle East countries, including Abu Dhabi, are increasing their renewable energy power capacity, reducing their dependence on fossil fuels and helping to meet increasing power demand.
Bio-Polymer Project in Thailand
The Bank of Ayudhya Public Company Limited (Krungsri) concluded a loan agreement with PTT MCC Biochem Co., Ltd for US$ 60 million to support a bio-polymer project by PTT MCC Biochem Co., Ltd., a joint venture between PTT and Mitsubishi Chemical Corporation.
The bio-polymer resin that PTT MCC Biochem manufactures has several key features, including the fact that it is made from plant-based succinic acid and is highly bio-degradable in soil. Aiming for the world's first commercial production of bio-based polybutylene succinate, PTT MCC Biochem manufactures 20,000 tons of the resin a year. As a measure to protect the environment, there is a rising trend in countries and regions around the world to use materials that contribute to the reduction of waste and do not consume fossil resources. The majority of plastic products are manufactured using fossil resources. Accordingly, amid the growing issues of limited resources and the environmental impact of plastic waste disposal, it is expected that demand for PTT MCC Biochem's plant-based plastic materials will increase as they reduce environmental impact from manufacturing process to waste disposal.
Expanding R&D Investments in Solar Power Generation Projects
With the aim of establishing a "renewable energy investment fund" for institutional investors such as pension fund managers, Mitsubishi UFJ Trust and Banking (the Trust Bank) is expanding its number of silent partnership investments (R&D investments) using its own funds.
In the previous fiscal year, the Trust Bank created a trust beneficiary account to acquire the 2 MW Kunitomi Megasolar Power Plant in Miyazaki Prefecture and a 1.8 MW solar power project in Hita City, Oita prefecture. The Trust bank has also acquired a specific amount of interest in the 10 MW Osaka Yumeshima Solar Power Plant in Osaka Prefecture. Furthermore, in June of the current fiscal year, construction was completed for a 1.4 MW solar power plant in Naka City, Ibaraki Prefecture, in which the Trust Bank has acquired interest.
In total, the Trust Bank has invested ¥4.2 billion to acquire interest in these plants, which have a combined generation capacity of 10 MW. Through these investments, these plants are expected to supply power to roughly 2,800 households a year as well as offset nearly 7,400 tons of CO2 emissions per year.
Going forward, the Trust Bank will increase its investment in renewable energy businesses. With the aim of promptly establishing a fund geared toward institutional investors, the Trust Bank will contribute to the full-scale introduction of renewable energy and the promotion of the provision of funds for medium- to long-term growth in the renewable energy market by leveraging finances from the private sector, which are also targets shared by the Japanese Government in its growth strategy.
Establishing an Asset Management Subsidiary for Energy-Related Businesses
Mitsubishi UFJ Lease & Finance (the Leasing Business) has established the Leasing Business Energy Investment Company Limited (MEI), a subsidiary specializing in solar power generation-related assets, and, through this subsidiary, has fully entered the renewable-energy-related asset management business. The solar power generation sector has been rapidly growing since the start of Feed-in Tariffs (FIT) in 2012. However, in line with the reduction of FIT purchasing prices, new projects are expected to peak out. In addition, as the burden of panel maintenance is higher than anticipated, there are expectations for the expansion of a secondary market in the future. This market includes needs for entrusting the management of power generations already in operation as well as needs for transaction businesses and rights with the purpose of capitalization. In order to respond to these needs, MEI will offer asset management services for solar power generation assets. In addition, MEI will be involved in the acquisition, transaction, and intermediary activities of solar power generation businesses already in operation and will also commence fund businesses that deal with the establishment and management of renewable energy investment funds.
Support Environmentally Friendly Management
MUFG Bank makes use of national government support programs to reduce the interest rate burden to customers by providing a variety of financial products in the environment and energy industry fields. We offer high-quality consulting to customers targeting environmental management and support efforts to raise funds at reduced interest rates.
Environmental Management Support Loan (With 1% Interest Subsidy)
This product makes use of the Ministry of the Environment's interest rate subsidy program for environmental management promotion activities. Under this program, the borrower can receive an interest rate subsidy (maximum 1%) for up to three years for the interest on loans made to install environmentally friendly equipment and facilities, provided the borrower has acquired a specific environmental rating, has declared set targets for reducing CO2 emissions and has made progress toward realizing those targets.
Financing the Construction of a New Factory for NITTSU SHOJI CO., LTD.
Utilizing the interest rate subsidy program for environmental management promotion activities, MUFG Bank provided Nittsu Shoji with financing for a new factory aimed at substantially improving its unit CO2 emissions.
Nittsu Shoji is working on putting governance systems in place and implementing appropriate management in its supply chain, including establishing standards for environmental consciousness and capital investment. In its environmental rating evaluation, MUFG rated the company highly for its "advanced environmental management."
Energy Conservation Support Loan (With 1% Interest Subsidy)
This product makes use of the Ministry of Economy, Trade and Industry's subsidy program for the promotion of upgrading facilities to improve energy efficiency. Under this program, the borrower can receive a maximum 1% subsidy for up to 10 years for the interest on loans made for the installation of energy-efficient equipment.
Providing Loans to Reitaku Kaiun Co., Ltd., for the Purchase of Energy-Efficient Ships
MUFG Bank provided loans to Reitaku Kaiun to cover some of the costs of converting its ships for private charter in Japan to the use of high-efficiency diesel engines, employing a subsidy program for the promotion of upgrading facilities to improve energy efficiency.
The upgrade reduces marine transport time by increasing ship speed, as well as increasing their payload. As a result, unit energy use is expected to rise by 1% or more compared with conventional ships. This project calls for the use of this equipment in business over multiple fiscal years.
Green Project Support Loan (With 1.5% Interest Subsidy)
This product makes use of the Ministry of the Environment's environmental risk assessment financing program enable the borrower to receive a maximum interest rate subsidy of 1.5% for up to five years on loans made for capital investments to address climate change.
These capital investments must be carried out under the environmental risk assessment financing program. Under this program, the borrower is required to present to the lending party the results of environmental impact assessments on the project and the results of environmentally conscious measures undertaken. The lender then verifies the details and the status of execution. MUFG Bank and Mitsubishi UFJ Research and Consulting have designed a system to carry out such verifications.
Environmental Accounting:Reducing CO2 and Achieving Economic Effects through Loans
(As of November 2018)
---
For Environment