Supporting Every Business Stage

Supporting Venture Businesses
- Held the Rise Up Festa
●To provide medium to long-term support for venture companies that are working on new and unique businesses
●For the eighth Rise Up Festa in 2021, companies gathered to take on challenges in the following four fields in which issues are expected to be solved.
 ①Acceleration of digital transformation (DX)
 ②Realization of a healthy society and well-being in the post COVID-19 era and the 100-year life span era
 ③Updating of urban and regional societies and realization of smart cities
 ④Creation of key industries and technologies to support the next generation
●From a total of more than 180 companies that applied, four best companies and four excellent companies were selected.
In April 2021, MUFG Bank launched Startup Advisory Division, a sales team dedicated to venture companies. The team will continue to work side by side with venture companies and grow together.
MUFG Digital Accelerator Program
- Growth of broad-based industries and creation of new industries and innovations
●The startup accelerator program established for the first time in a bank in Japan in 2015 has so far supported a total of 31 companies.
●Over a period of about three months, MUFG's full capabilities were used to brush up business plans, support the construction of prototypes, select partners that match the direction of the business plan, and form alliances to provide full support for the steps toward commercialization.
●In the fifth term, which started in January 2021, five companies were selected from more than 180 companies, and support was provided to them.
New Industry Growth Support Program
●A program that actively supports new business fields that are difficult to deal with under conventional credit decisions.
●For businesses that have high growth potential but have difficulty making credit decisions, credit department and sales department work together to evaluate business capabilities through interviews with clients and plant tours.
●Support for growth is provided, including financing, after identifying in detail the business strengths and management issues.
Invested in "MPower Partners Fund L.P.", an ESG-Focused Global Venture Capital Fund
●A fund that supports venture companies providing solutions to social challenges through the power of technology.
●ESG assessment is incorporated into the growth strategies of a company to be invested in to support their implementation.
●MUFG invested in the fund using the Sustainable Business Investment Strategy that takes into consideration economic efficiency and environmental and social impacts.
Online Venture Business Meeting
●Business opportunities for venture companies
●Support for open innovation of large companies
●In FY 2020, the event was held with the themes of "AI" and "digital transformation"
Released the "Everyday Business Link System -Bizry-"
●Online business matching service started from July 2021.
●AI-based candidate proposal system is scheduled to be added in 2022.
●The service provides an opportunity for our customers to connect directly with each other online, regardless of time or location.
Supporting Customers' Sustainability Initiatives
Support for regional revitalization
Investment and financing using funds
ALL JAPAN Tourist Area Regeneration/Revitalization Fund
Invigorating the domestic tourism industry is positioned as one of Japan's critical economic policies and is deemed key to facilitating regional revitalization. Moreover, it is seen as an essential growth strategy as the nation strives toward a GDP target of ¥600 trillion. With the number of visitors from overseas growing, the industry is seeing the creation of new and varied market demand and its potential is expanding. However, on the business front, the industry is faced with a number of challenges, including a shortage of accommodation due to an aging and insufficient supply of facilities, the graying of facility operators and a pressing need for management succession planning. Regional businesses are also being called upon to develop new sightseeing resources and meet increasingly diverse tourist needs.
To help the industry take on these challenges, the ALL JAPAN Tourist Area Regeneration/Revitalization Fund was instituted in April 2018. The first domestic private fund of its kind, this megafund is uniquely designed to facilitate investment that transcends regional boundaries. Alongside other leading business corporations representing various industries, MUFG will collaborate with regional financial institutions to operate the fund, thereby promoting a thriving tourism industry and invigorated regional economies in all 47 prefectures nationwide. By doing so MUFG will actively contribute to Japan's industrial development and economic growth.
MUFG Regional Revitalization Fund
The Bank launched "MUFG Regional Revitalization Fund" aimed at providing customers with smooth financing for facility procurement and working capital as well as advice to help them get their projects on track. Our efforts focus on helping customers meet four basic targets under Japan's plan for the Dynamic Engagement of All Citizens,(note) covering community, people and employment. Every year, this fund provides finance for a number of customers, with a total of ¥35.7 billion being extended in fiscal 2018.
The Bank also engages in financing that draws on the government's subsidized interest payment program for regional revitalization, extending a total of ¥6.8 billion in fiscal 2018 under this program.
A comprehensive strategic plan formulated by the Headquarters for Overcoming Population Decline and Vitalizing Local Economy in Japan (established by the Cabinet Secretariat in September 2014). In response to the rapid decline in and aging of the country's population, this plan aims to help create an autonomous and sustainable regional society in a way that takes advantage of characteristics of each region.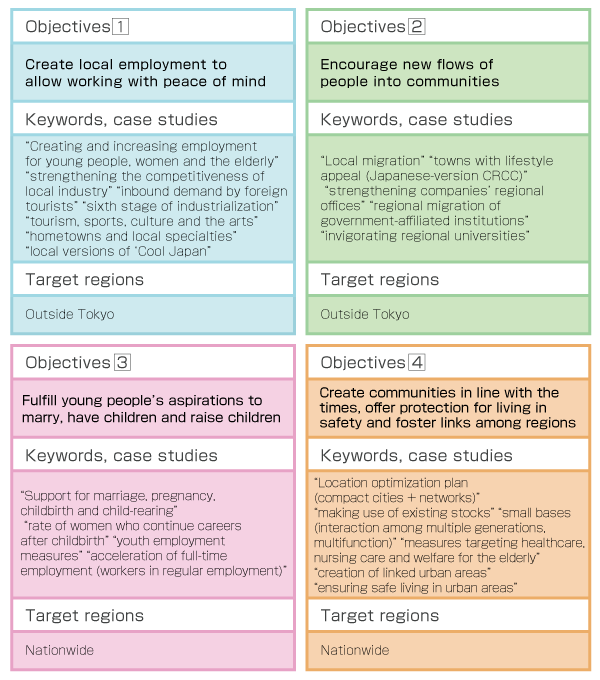 Offering Loan Products That Leverage National Government Support Systems
Interest Rate Subsidy Program to Support Regional Revitalization
The interest rate subsidy program to support revitalization is a comprehensive Cabinet office support program to encourage autonomous and independent local initiatives that invigorate local economies, create local employment opportunities and revitalize communities in other ways. Companies that borrow money for businesses that contribute to community regional revitalization plans can receive up an interest rate subsidy of up to 0.7% from the Cabinet office.
Interest Rate Subsidy Program to Support Comprehensive Special Zones
In response to changes in the socioeconomic situation, including changes in the industry structure and the international competitive landscape, as well as the rapid decline in the birthrate and aging of the population, the interest rate subsidy program to support comprehensive special zones serves as a comprehensive and concentrated effort to bolster the international competitiveness of Japanese industry and promote regional invigoration, thereby buttressing Japan's socioeconomic strength and facilitating sustainable development. Companies that borrow money for businesses that contribute to the plan for comprehensive special zones can receive an interest rate subsidy of up to 0.7% from the Cabinet office.
Interest Rate Subsidy Program for Creating Regional Employment
Low-interest loans on projects through the Ministry of Health, Labour and Welfare's subsidized interest program for projects that create employment in strategic industries are in line with the ministry's prefectural-level industrial policy for innovative projects in accordance with regional conditions. Under this program, borrowers can receive an interest rate subsidiary of up to 1.0% for a fixed period of up to five years. This reduction of the interest burden aims to help companies expand employment opportunities within their prefecture, stabilizing employment for workers.