MUFG uses our outstanding consulting capabilities to respond to diverse needs, such as asset formation and smooth business succession, in preparation for the 100-year life span era. MUFG also supports the healthy growth of children, who will be the leaders of the next generation, through a variety of social contribution activities, including financial and economic education to improve financial literacy, donations to child support groups, and volunteer activities.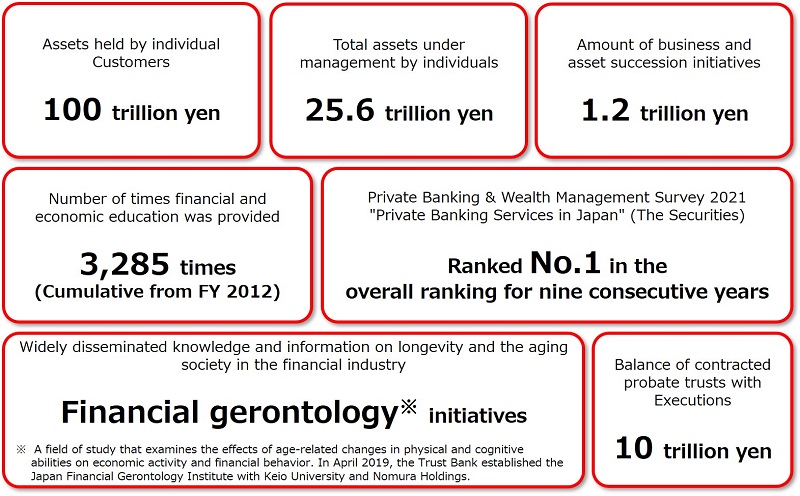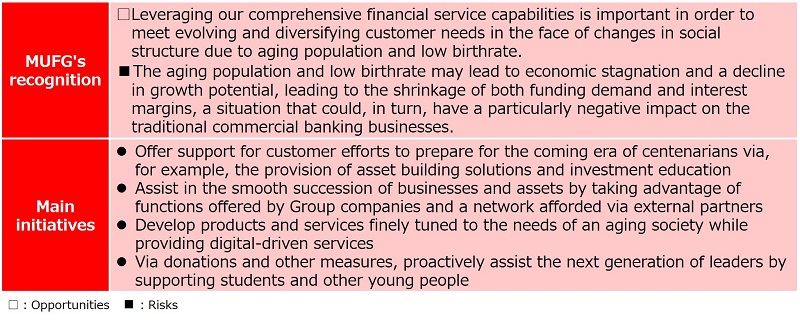 Support for the 100-year Life Span Era
Providing Services that Meet the Needs of Diverse Lifestyles
●Consultations on how to prepare for many years of life as seniors and security support for nursing care etc. and optimal asset formation and management
●Offering a wide range of services, such as time deposits, foreign currency deposits, bonds, investment trusts, life insurance, and tax incentive programs
Supporting Smooth Business Succession
●Respond to a wide range of needs using the network of our partners
●Providing solutions as a Group as a whole
●Providing M&A proposals, inheritance and real estate proposals using trusts, and asset management proposals using securities
●Support the succession of businesses and assets worth more than 1 trillion yen in total through business succession lending etc.
Launch of a Free Appointment-Based Proxy Services at the Bank,
the Trust Bank and the Securities
●Support for smooth financial transactions after the loss of cognitive ability and/or ability to make decisions
●Designation of a proxy is possible prior to the transactions
●The designation of a proxy for a partner is also possible(note)
●Deposit transactions and the sale of investable products are possible
A certiicate of partnership issued by a local government must be submitted.
Expanding Services to Connect Customers with the Next Generation Online
"Tsukaete Anshin" to Manage Assets with Family Members
●Management of funds by the customer and a family member is possible using a special app.
●Reduces anxiety about cognitive decline concerning asset management and withdrawal procedures as the aged population increases
●A pre-designated proxy can make withdrawals and account statement inquiries on behalf of the customer.
●Additional functions have been added for convenience, such as the Tsukaete Wrap Special Contract.(note)
●Since the start of the service in March 2019, more than 5,000 contracts have been made.
A function that allows a proxy to cancel the funds managed in the MUFG Fund Wrap and deposit them into the "Tsukaete Anshin".
"Family Note -app- by MUFG", an App for Creating One's Own Magazine
to Be Delivered to Family Members
●Preparation for inheritance using digital content for the future
●Creating an ending notebook to be ready for death just in case
●Photos can be shared, and messages can be sent easily using the album function.
●Support daily healthy habits (walking, brain training, diet management)
●Family members watch over the health records and provide support by sending "Nice!"
Finance and Career Guidance
MUFG is engaging in social contribution activities that make use of its core business competency. As part of these activities, we are undertaking initiatives related to economic and financial education for students. We are creating educational programs that provide students with opportunities to learn about the structure of finance and the workings of the economy. We hope that these programs help children become more socially independent and provide them with the strength to realize their own unique lifestyle in the future.
Through its partnership with Junior Achievement, an international organization that promotes economic education, MUFG helps young people enhance their financial literacy and provides career guidance.
Economic and Financial Educational Activities at Group Companies
Economic and Financial Education Provided by MUFG Bank
MUFG Bank (the Bank) is providing economic and financial education to elementary, junior high, and high school students in local communities through a workplace experience, primarily at local branches, retail banking customer service centers, and schools where employees conduct classes. In this program, students learn about the economy, finance, and the role of banks in society. In addition, they have the opportunity to interview employees, asking such questions as "What things do you value when it comes to your job?" and "What is it like to work as a team?" Through these interviews, and the first-hand experience of working, the program provides children with career guidance.
Internship Program (Dynamics of the Stock Market)
Mitsubishi UFJ Morgan Stanley Securities (the Securities Business) is offering an internship program (Dynamics of the Stock Market, or Kabu no Chikara), a unique educational program about the economy and finance. Developed in cooperation with Educa & Quest Co., Ltd., the program consists of five classes where students learn about stocks. At the conclusion of the program, students are asked in groups to express how they leaned about Kabu no Chikara, in the form of a mock the Securities Business newspaper advertisement. The students give a presentation on these advertisements to the class. In FY 2019, approximately 700 students participated from 10 private junior high and high schools in areas around Tokyo and made a total of approximately 180 advertisements. Of the participating students, eleven teams composed of representatives from each school (50 students in total) were formed to present their works at the Securities Business's Head Office. At the presentation, the chairman and the president of the Securities Business gave warm words of encouragement to the students.
This initiative has received high praise as it leverages the Securities Business's Head Office and is promoted on a companywide basis. At the FY 2018 9th Career Education Awards held by the Ministry of Economy, Trade and Industry, this initiative won the Encouragement Award in the major corporation section.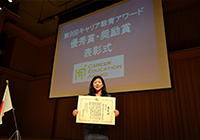 ACOM's Support for Financial Education
ACOM is holding lectures for college students regarding the knowledge of money, such as loans and credit, family budget management, and the outline of the consumer credit industry.
ACOM has been conducting such financial enlightenment activities roughly 10 times annually. ACOM hopes that these students learn to appreciate the value of money and manage their personal finances responsibly later in life.