Global Advisory Board Annual Meeting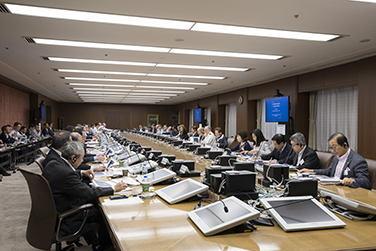 MUFG has established the Global Advisory Board to function as an advisory body to the Executive Committee, and the Board is made up of members from Japan, Europe, Asia, and the Americas who are external experts in areas such as corporate management, financial regulation, and government policy.
In December 2018, MUFG held an annual meeting of its Global Advisory Board in Tokyo. In addition to Global Advisory Board members, attendees included MUFG officers, directors, outside directors and representatives from overseas partner banks. They engaged in active discussion on a broad range of themes, including MUFG's business portfolio, the medium-term business plan, digital technology and latest developments in global politics.