Corporate Governance System
For more information on MUFG's corporate governance, please refer to the below.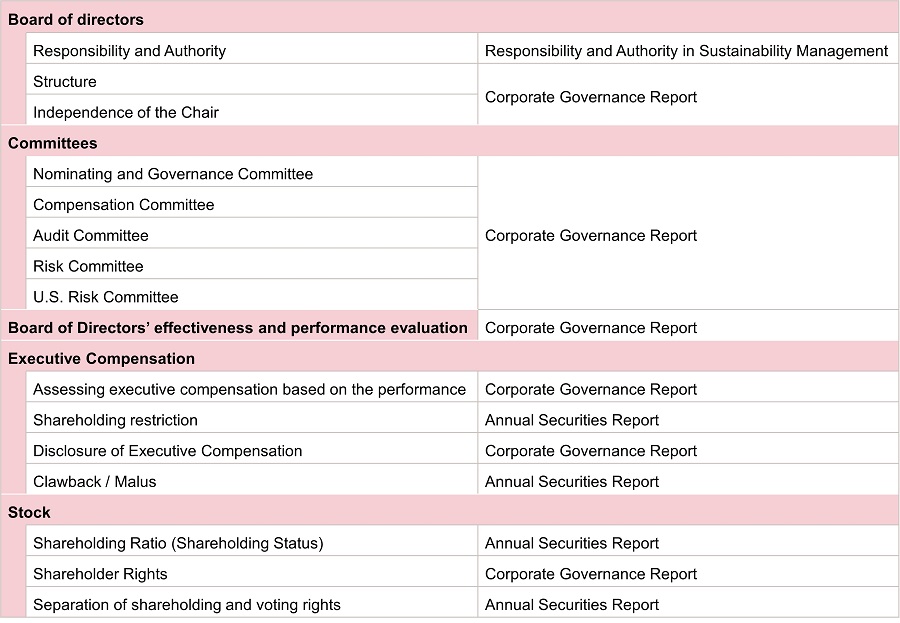 Responsibility and Authority in Sustainability Management
MUFG aims at its sustainable growth and increase in medium to long-term corporate value, based on the requests from stakeholders including shareholders, customers, employees and local communities.
MUFG is committed to fair, just and transparent corporate management and to the realization of effective corporate governance guided by the MUFG Corporate Governance Policies.
MUFG's Management Structure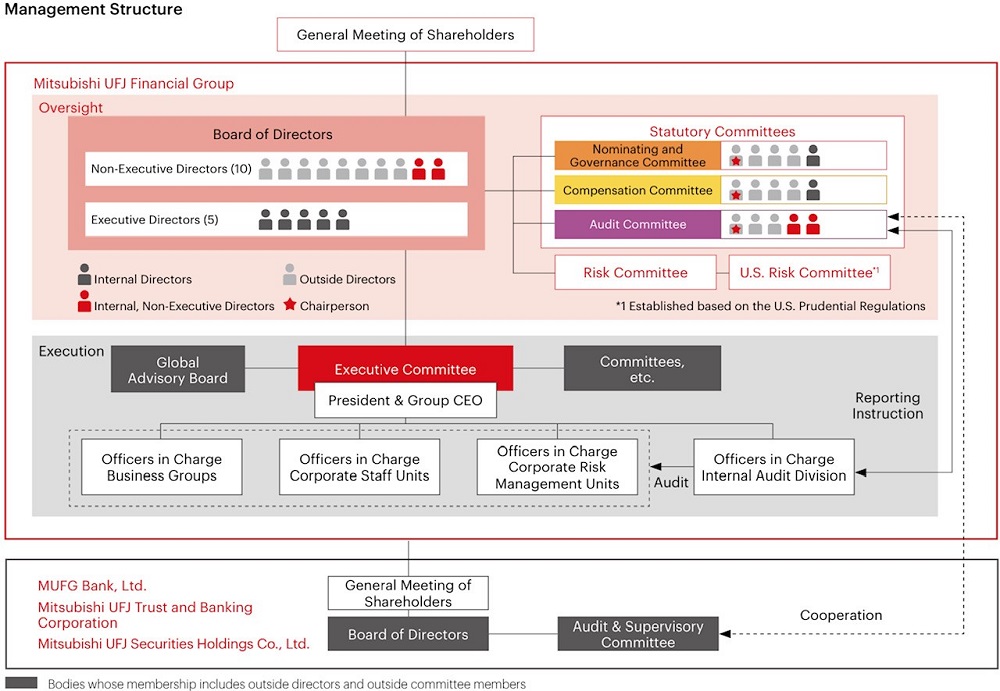 Sustainability Committee Meetings
MUFG holds regular committee meetings to identify ESG issues affecting corporate management, and report and discuss how the Group is responding to them.
In fiscal 2021, the committee meeting was held in January 2022 and deliberated on the business environment surrounding MUFG and reviewed priority issues. Details of the deliberations are as follows.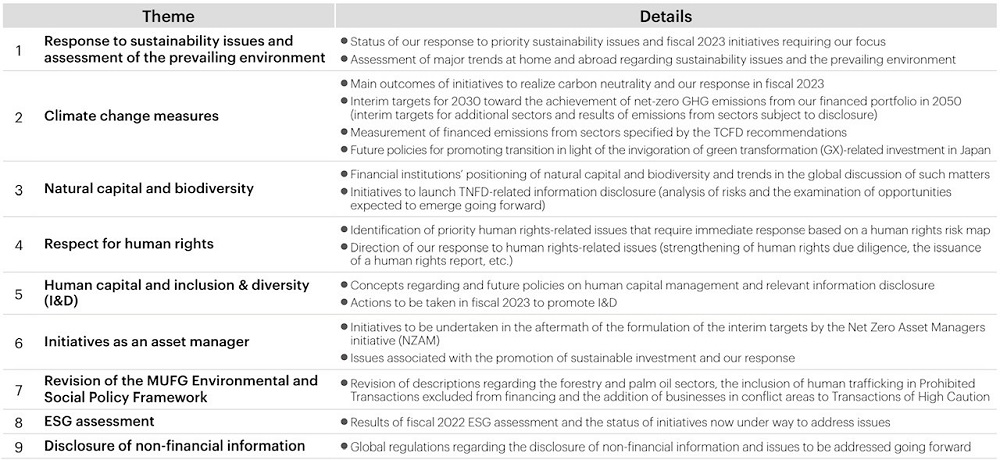 External Advisors in the Environment and Social Fields
Since 2019, we have engaged external experts in the environmental and social fields as permanent external advisors.
Opinions were exchanged between the experts and the members of the Board of Directors, allowing us to use their broad knowledge of ESG in our sustainability initiatives.
| | |
| --- | --- |
| Rintaro Tamaki | President, Japan Center for International Finance |
| Junko Edahiro | Professor, Graduate School of Leadership and Innovation, Shizenkan University / President, Institute for Studies in Happiness, Economy and Society / Founder and President, e's Inc. |
| Kenji Fuma | CEO, Neural Inc. |
Opinion Exchange Meeting with Advisors
At the opinion exchange meeting held in December 2021, the Group CEO, Bank President, trust and securities companies Presidents, Group CSuO, and other relevant members participated in the meeting. They exchanged views on the measures required of financial institutions such as global trends in response to climate change, which is one of the most important issues, as well as discussions on Japanese policies, transition finance, and carbon pricing. In addition, discussions were held to exchange opinions in a wide range of fields related to sustainability, including discussions on the necessity of strengthening responses to natural capital and biodiversity conservation, and the importance of further promotion of human rights, and inclusion & diversity.
Study Sessions for Management
In order to invigorate internal discussions on sustainability, we invited experts in various fields to hold study sessions. In study sessions, the management team actively exchanges opinions with these experts.
| Date | Theme | Lecturer |
| --- | --- | --- |
| August 2021 | Climate change risk management for financial institutions | Mr. Kenji Fujii, President, Global Risk and Governance LLC |
| October 2021 | Global environmental crisis, economic and social system transformation, and appropriate management of global commons | Naoko Ishii, Executive Vice President, Professor and Director at Center for Global Commons, University of Tokyo |
| November 2021 | "ESG Disclosure and Improvement of Corporate value" and "Addressing Impact Investment Issues" | Tetsuo Kitagawa, Emeritus Professor, Aoyama Gakuin University |
| February 2022 | Biodiversity | Naoya Furuta, Professor, Taisho University |
Introduction of a Heightened Metric for ESG-Related External Ratings as a New Key Performance Indicator for the Executive Compensation System
MUFG revised its executive compensation system to achieve the medium-term business plan and implement sustainability management, and has newly installed a heightened metric for ESG-related external ratings as a medium- to long-term performance-linked indicator for stock-based compensation.
The system is designed to ref­lect the degree of improvement in external ratings granted by major ­five ESG rating agencies(note) in executive compensation with the intention of aligning MUFG's corporate behavior with the interests of diverse stakeholders.
In fiscal 2022, we also added inclusion & diversity targets to qualitative assessment indicators for determining the amount of bonuses vis-à-vis the execution status of the recipients' duties, in order to facilitate management efforts to promote and secure the robust employee understanding of inclusion & diversity.
MSCI, FTSE Russell, Sustainalytics, S&P Dow Jones, CDP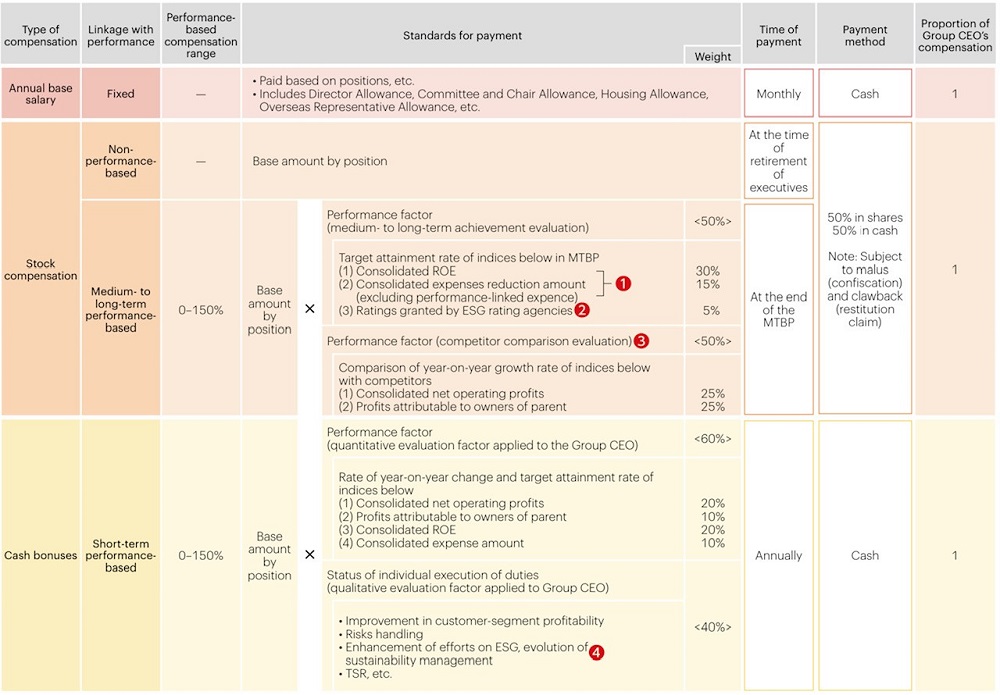 To incentivize efforts to improve MUFG's earnings power, capital efficiency and profit structure, each of which is considered a management issue requiring the utmost priority, the degree of achievement vis-à-vis target levels stipulated in the Medium-Term Business Plan (MTBP) regarding consolidated ROE and consolidated expense reduction (excluding performance-linked expense) is determined on an absolute evaluation basis.
In addition to incentivizing recipients to advance sustainability management, the degree of improvement in external ratings granted by the five major ESG rating agencies (MSCI, FTSE, Russell, Sustainalytics, S&P Dow Jones and CDP) is determined on an absolute evaluation basis, with the aim of objectively assessing the recipient's contribution to MUFG's initiatives to address ESG issues in a variety of fields.
Relative comparisons with competitors are made with Mizuho Financial Group and Sumitomo Mitsui Financial Group.
ESG-related assessment items subject to qualitative evaluation include contribution to the resolution of environmental and social concerns, the promotion of inclusion & diversity and the strengthening and upgrading of MUFG's governance structure.