We have clarified our Group mission, long-term vision and shared values in the Corporate Vision and expressed our commitment to meeting the expectations of customers and society as a whole. Furthermore, we have established the MUFG Group Code of Conduct as the guidelines for how the Group's directors and employees act to realize the Corporate Vision. This expresses our commitment to complying with laws and regulations globally, to acting with honesty and integrity, and to behaving in a manner that supports and strengthens the trust and confidence of society.
In addition, as we expand our business globally, we are committed to keeping abreast with developments in the laws and regulations of the jurisdictions in which we operate, including those targeting money laundering and bribery, as well as competition laws, while paying attention to trends in financial crimes.
Compliance management divisions have been established at the holding company Mitsubishi UFJ Financial Group, and at MUFG Bank, Mitsubishi UFJ Trust and Banking, and Mitsubishi UFJ Securities Holdings (referred to as the three companies below). Each compliance management division formulates compliance programs and organizes training courses to promote compliance, and regularly reports to each company's board of directors and Executive Committee on the status of compliance activities.
The holding company has the Group Compliance Committee while the three companies have Compliance Committees which deliberate important matters related to compliance. Additionally, the holding company has the Group Chief Compliance Officer (CCO) Committee composed of the CCO of the holding company and CCOs of the three companies. This committee deliberates important matters related to compliance and compliance-related issues for which the Group should share a common understanding.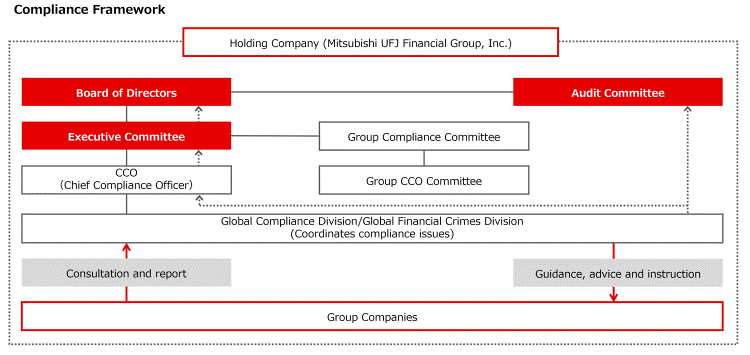 FOCUS: Fostering a Compliance-Oriented Corporate Culture
As a financial institution, MUFG is well aware of its obligation to strictly comply with corporate ethics and to abstain from business conduct that goes against its principles, even when clearly defined rules are not provided. MUFG is therefore striving to foster a corporate culture that does not tolerate unjust behaviors by periodically holding training sessions aimed at instilling its Corporate Vision and MUFG Group Code of Conduct. Not merely lectures to facilitate the understanding of in-house rules among employees, these training sessions are designed to encourage participants to allow such vision and principles to guide every action they make. To that end, participants are asked to reflect on their own experience. At the same time, they hear their peers' views on the subject and take time to think about what they learn. Often, these sessions involve lively discussions that, in turn, afford them valuable insights into what is it like to apply compliance principles in the course of day-to-day operations.
Internal Reporting System and Accounting Auditing Hotline
The major subsidiaries have established internal reporting systems that aim to identify compliance issues early so that any problems can be quickly rectified. This system includes an independent external compliance hotline. Furthermore, the holding company has set up an MUFG Group Compliance Helpline that acts in parallel with group-company internal reporting systems and provides a reporting channel for directors and employees of Group companies. In fiscal 2020, MUFG Group Compliance Helpline and major group-company internal reporting systems received a total of 570 reports. In the holding company, the contents of the reported cases as well as the result of surveys is reported to the audit committee on a regular basis or whenever necessary.
In addition to these internal reporting systems, the holding company has also established an accounting auditing hotline that provides a means to report any problems related to MUFG accounting.
MUFG Accounting Auditing Hotline
MUFG has set up an accounting auditing hotline to be used to make reports related to instances of improper practices (violations of laws and regulations) and inappropriate practices, or of practices raising questions about such impropriety or inappropriateness, regarding accounting and internal control or audits related to accounting in Group companies. The audit committee oversees the reporting process to ensure the appropriateness and effectiveness of the reporting process and monitors the reports received through the hotline. The reporting process works as follows, and may be carried out via letter or e-mail:
Hokusei Law Office, P.C.
Address: 8F Sanshi Kaikan, 1-9-4 Yurakucho, Chiyoda-ku, Tokyo
e-mail: MUFG-accounting-audit-hotline@hokusei-law.com
When reporting information please pay attention to the following:
Matters subject to reporting are limited to those related to accounting, internal control regarding accounting and accounting auditing of MUFG Group. Please note that other inquiries may not be answered.
For any inquiries about the products and services of Group companies, please refer to the inquiries listed on each company's website.
Please provide detailed information with respect to the matter. Without detailed factual information there is a limit to how much our investigations can achieve.
Anonymous information will be accepted.
No information regarding the identity of the informant will be passed on to third parties without the approval of the informant him- or herself. However, this excludes instances where disclosure is legally mandated, or to the extent that the information is necessary for surveys or reports, when data may be passed on following the removal of the informant's name.
Please submit reports in either Japanese or English.
If the informant wishes, we will endeavor to report back to the informant on the response taken within a reasonable period of time following the receipt of specific information, but cannot promise to do so in all instances.