Approach to Sustainability
Sustainability Management
With the conviction that environmental and social sustainability are essential to achieving sustainable growth for MUFG, we will engage in value creation employing an integrated approach in which the execution of management strategies goes in tandem with the pursuit of solutions for social issues.
MUFG Way and Code of Conduct
MUFG Way serves as the basic policy in conducting our business activities, and provides guidelines for all group activities.
MUFG Way also is the foundation for management decisions, including the formulation of management strategies and management plans, and serves as the core value for all employees.
Our Purpose, "Committed to empowering a brighter future." expresses our determination to help all our stakeholders take the next step forward. It is our view that our Purpose, as the starting point for all business activities, gives direction and force to the strategies included in our Medium-term Business Plan, allowing us to contribute further to realizing a sustainable society.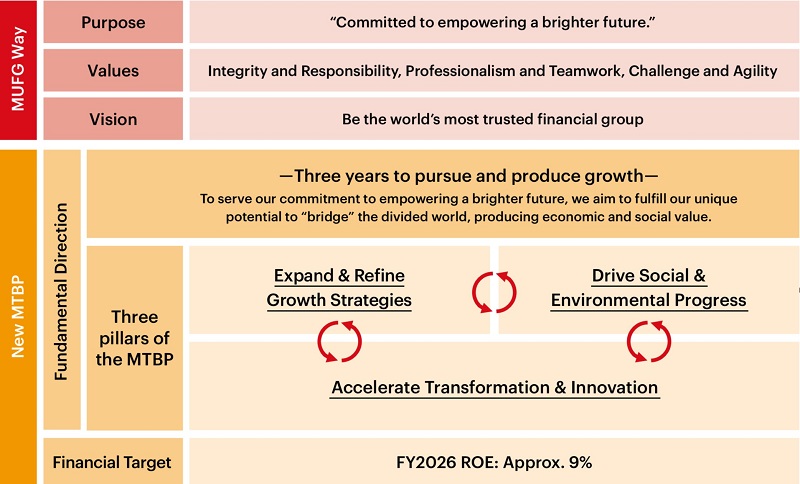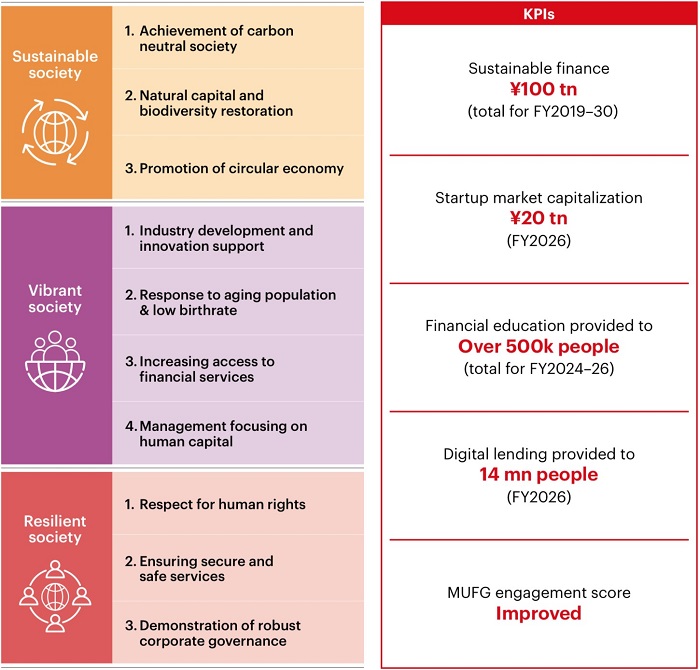 The Code of Conduct encapsulates the standards that guide employees' conduct and decision-making in our day-to-day business activities under the MUFG Way. The Code of Conduct is organized into three chapters.
Chapter 1 Customer Focus
Chapter 2 Responsibility as a Corporate Citizen
Chapter 3 Attitudes and Behaviors in the Workplace
Positioning in the Medium-term Business Plan (FY2021-FY2023)
MUFG strives to thoroughly address the issues of all stakeholders, including society and clients, and works to solve the issues in order to stay true to the purpose of MUFG to be committed to empowering a brighter future.
In the medium-term business plan that started FY2021, we set our target to become The premier business partner that pioneers the future through the power of f­inance and digital services and placed sustainability management as one of three themes for change along with digitalization and speed and new challenges, which is the state we aim to achieve in three years. We will promote business strategies, risk management, and social contribution activities starting with our ten environmental and social issues that we will work on as our priorities to contribute to solving the environmental and social issues.
Overall of MUFG's Sustainability Management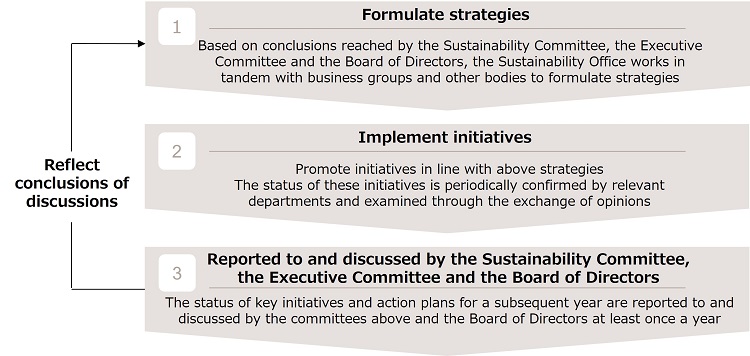 Promotion of Sustainability
Sustainability Promotion Structure
MUFG Under the supervision of the Board of Directors, MUFG has established a system to promote sustainability centered on the Sustainability Committee.
This committee is chaired by the Group Chief Sustainability Officer (CSuO), who is responsible for all sustainability initiatives. Under the leadership of the Group Chief Strategy Officer (CSO), the CSuO continue the work closely with him to promote sustainability initiatives in conjunction with management strategies.
In principle, MUFG convenes the Sustainability Committee at least once a year to check and discuss the status of sustainability initiatives and to report the contents to the Executive Committee and the Board of Directors, which supervise the Committee. In addition, three external advisors have been invited to provide expert opinions on sustainability issues and risks at any time. These advisors exchange opinions with the members of the Board of Directors and provide advice and recommendations from their professional standpoints on MUFG's sustainability initiatives.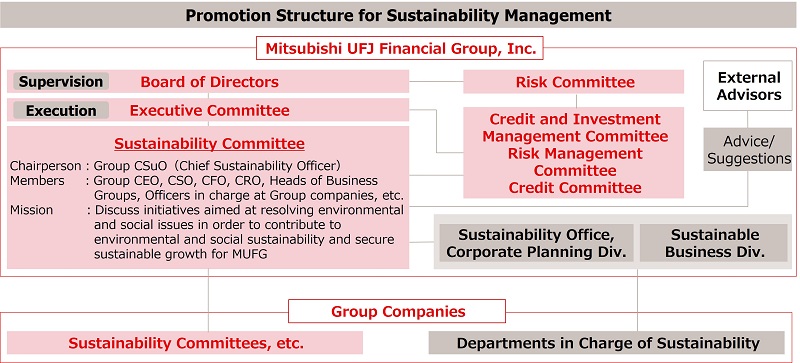 Roles of Each Position and Department
Group Chief Sustainability Officer (CSuO)
The Group Chief Sustainability Officer is responsible for all initiatives to promote sustainability management.
The external advisor regularly exchanges views with the management in order to make use of external knowledge for sustainability management.
Sustainability Office, Corporate Planning Division
The Sustainability Office is responsible for developing the foundation of MUFG's sustainability management as well as planning and promoting strategies for solving environmental and social issues while achieving sustainable growth.
Sustainable Business Division
An organization dedicated to promoting sustainable business. By integrating MUFG's expertise in sustainability both in Japan and overseas, the Division supports the sustainable growth of customers by providing various types of information and solutions from the standpoint of solving environmental and social issues.
We have set our accumulated sustainable finance amount as of fiscal year 2030 as a sustainable finance target for solving environmental and social issues. Our accumulated sustainable finance amount as of fiscal year 2021 was ¥14.5 trillion (of which, ¥5.4 trillion is environmental area), and was proceeding steadily towards this target.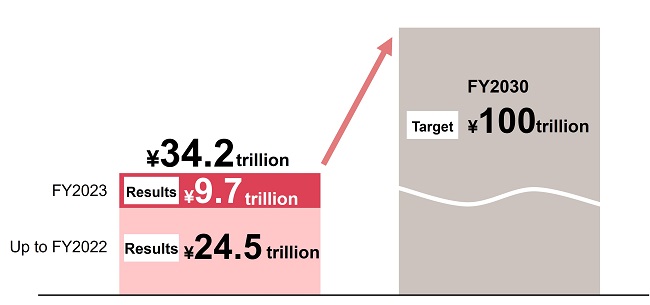 Progress in Sustainable Finance Goals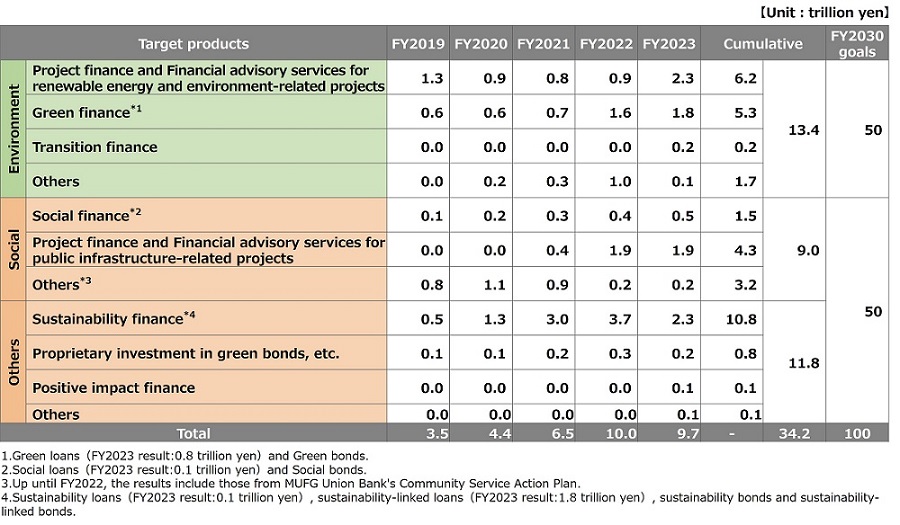 Definition of Sustainable Finance
The term "Sustainable Finance" refers to the provision of finance for the following businesses (including loans, equity investment in funds, arrangement of project finance and syndicated loans, underwriting of equities and bonds, and financial advisory services) with reference to the relevant external standards (e.g. the Green Loan Principles, Green Bond Principles, and Social Bond Principles).
Businesses contributing to the adaptation to and moderation of climate change, including renewable energy, energy efficiency improvement, and green buildings (e.g. arrangement of loans and project finance for renewable energy projects, underwriting and distribution of green bonds).
Businesses contributing to the development of startups, job creation, and poverty alleviation
Businesses contributing to the energizing of local communities and regional revitalization
Fundamental service businesses, including those involved in basic infrastructure such as public transport, waterworks, and airports, and essential services such as hospitals, schools and police.
(e.g. Emerging Industrial Technology Support Program, loans for regional revitalization projects such as MUFG Regional Revitalization Fund, arrangement of loans and project finance for public infrastructure, underwriting and distribution of social bonds).
Responding to Funds-Supplying Operations to Support Financing for Climate Change Responses
(Climate Response Financing Operations) at the Bank of Japan.
MUFG Bank and Mitsubishi UFJ Trust and Banking have been selected as counterparties of Funds-Supplying Operations to Support Financing for Climate Change Responses (Climate Response Financing Operations)at the Bank of Japan. The following include the criteria for eligible investment or loans for Climate Response Financing Operations by MUFG Bank and MUFG Trust and Banking.
MUFG Trust and Banking Corporation
Issuance of Green, Social and Sustainability Bond
MUFG is the only issuer in Japan with a track record of issuing green, social, and sustainability bonds as the largest private issuer in Japan. The proceeds from bonds issued by MUFG will be used for sustainability-related financing.
In these rapidly changing times, all of our stakeholders are overcoming challenges to f­ind a way to the next stage, toward sustainable growth. We at MUFG will make every effort to help realize these goals. This will be our unchanging purpose now, and into the future.
MUFG will continue to actively engage in constructive dialogs with stakeholders in order to gain new insights and deepen mutual understanding. We strive to build a relationship of trust and cooperation with our stakeholders by responding appropriately to their concerns and issues, and to help MUFG achieve sustainable growth and enhance its corporate value over the medium to long term.
Key Stakeholder Groups
Policies for Improving Corporate Value and Fiscal 2021 Achievements

Customers and partners


・Customers at home and abroad
・External corporations acting as our business partners

Extend financial support to help customers resolve challenges they are confronting through business operations that precisely align with changes in the business environment and leverage MUFG's strength

・Customer feedback volume: Approximately 180,000 instances,(note) including 165 inputs utilized to improve services
・Engagement with customers for decarbonization: Approximately 550 corporate clients at home and abroad
・Initiatives of each business group

(note)The Bank, the Trust Bank, MUMSS, NICOS and ACOM


Communities and society

・NPO/NGO
・Local communities
・Municipalities


Serve as a component of the financial infrastructure supporting society by offering stable funding and making our solid operations and systems available to customers while contributing to the social transition to digital technologies


・Number of dialogues held with NPOs/NGOs: 35
・Response to aging population & low birthrate
・Supporting business efforts and innovation-oriented endeavors aimed at resolving social issues
・Cyber security-related initiatives


Future generations

・The environment
・Younger people

Discover opportunities from the pressing need to solve environmental and social issues, thereby becoming a pioneering company blazing a path into the coming era

・Moving towards Carbon Neutrality
・Promoting sustainable businesses
・Disclosure based on TCFD recommendations
・Participation in various global initiatives

MUFG Employees

・Number of employees
 Approximately 170,000

Promote corporate culture reforms focused on "speed" and "new challenges" by winning employee empathy toward "Corporate Transformation" via dialogue

・Career Challenge System, Nurturing Human Resources
・Spark X—new business incubation program
・MUFG Way Integration Sessions
 Held on more than 3,000 occasions at home and abroad and attended by more than 50,000 employees
・Held town hall meetings attended by top management members on more than 1,000 occasions


Shareholders and investors

・Number of shareholders
 Approximately 810,000

Maintain highly transparent information disclosure and engagement in constructive shareholder dialogue while reflecting shareholder feedback in business management and strategies

・Number of attendees at the General Meeting of Shareholders 412 (a total of 1,121 shareholders watched the meeting online)
・Number of presentation meetings held for institutional investors and analysts 10
・Dialogue between outside directors and institutional investors
・Number of individual meetings with institutional investors 317 (173 meetings with overseas investors)
・Number of online seminars held for individual investors 3 (a cumulative total of 2,100 viewers)
Distributing Information and Having Dialogues with Stakeholders
Hosted an Engagement Seminar for Realization of a Carbon-Neutral Society
MUFG Wealth Management Presents Wealth Management Forum - Rethinking Asset Management, Asset Succession, and Business Succession in an Era Focusing on Sustainability
To increase general public's awareness of the MUFG Wealth Management brand and promote sales activities, a large-scale Web seminar for our banking, trust, and securities customers was held with The Yomiuri Shimbun's sponsorship.
President Kamezawa had a keynote talk session with Mr. Norichika Kanie, a leading authority on the SDGs in Japan, who joined the session remotely from Washington, D.C. and exchanged opinions on a wide range of topics, including MUFG's sustainability management in relation to the SDGs and individual companies' sustainability management examples, related business opportunities, and ESG investment."
We held town hall meetings for employees. In fiscal 2021, these meetings were also held at overseas bases.
In fiscal 2021, we held more than 1,000 town hall meetings between executive officers and employees. In April 2022, Group CEO Kamezawa flew to the United States for the first time in three years to host a town hall meeting. While approximately 200 Group employees operating in the Americas physically attended the meeting, around 180 individuals took part in the event online.
Addressing the attendees, Mr. Kamezawa shared his joy of visiting his colleagues in the United States, where he previously resided as an expatriate and worked as part of a local team. He also expressed his gratitude to all those who worked so hard on the sale of MUFG Union Bank as well as all those who contributed to the local communities. Furthermore, the Group CEO stressed that MUFG's commitment to its Americas business will remain unchanged even after the above sale, and that the Group will continuously push ahead with transformation into a speedy and flexible organization. Comments voiced by attendees included "The meeting was held in a relaxed atmosphere, and I felt that I was a member of the same team" and "Mr. Kamezawa's emphasis on the Americas as a key growth region outside of Japan was very encouraging."
We enhanced the content of information disclosure associated with our initiatives to realize carbon neutrality and held special briefings for investors.
Since fiscal 2021, MUFG has stepped up its commitment to addressing environmental and social issues. In May 2021, we announced the MUFG Carbon Neutrality Declaration and, in the following month, hosted seminars with themes that focused on the specific milestones set for initiatives being undertaken to realize this declaration and promote sustainable businesses.
We have since pushed ahead with these initiatives, taking a groupwide approach and rallying Group members across the globe. In April 2022, we issued the MUFG Progress Report, which summarizes our progress over the course of the past year. At the same time, we held an investor seminar, with Group CSuO Miyashita and General Manager Nishiyama (Sustainable Business Division) addressing questions from attendees.
Comments from investors who joined the event included "I found the content of the Progress Report to be wellorganizedin terms of explaining how MUFG set its interim targets and showcasing examples of engagement. Moreover, attending the seminar helped me better understand these matters." and "I have high expectations for Mr. Nishiyama, who joined MUFG as a mid-career hire, as he will contribute his robust expertise to help MUFG realize synergies arising from the combination of new insights and its traditional strengths."