Medium-term Business Plan (FY2021-FY2023)
Position the 3-year term as the "3 years of new challenges and transformation". Structure our business model to suit the changes in environment and improve ROE.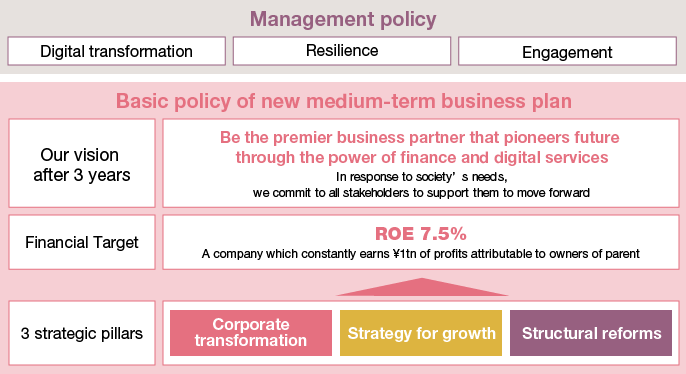 Position "Corporate transformation", "Strategy for growth" and "Structural reforms" as the three strategies to achieve our goal in three years.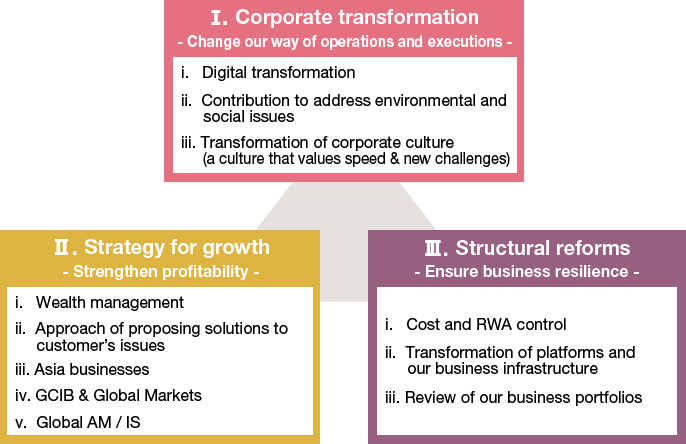 In the new medium-term business plan, ROE target is set as 7.5%, and CET1 target is set as 9.5%-10.0%.
Target for ROE / Capital management
FY20 Results

FY23 Targets
Medium- to Long-term Targets
ROE

5.63%
7.5%
9%-10%
CET1 ratio (Finalized Basel III regulations basis(note))
9.7%
9.5%-10.0%
(note) Estimated CET1 ratio reflecting the RWA increase calculated on the finalized Basel III reforms basis. Excluding net unrealized gains on AFS securities.
3 Drivers to achieve ROE target
Profits
Net operating profit:JPY1.4tr
Profits attributable to owners of parent:over JPY1tr
Expenses(note)
Lower than FY20 level
(excl. performance-linked expenses)
RWA
Maintain end of FY20 level
(improve profitability by replacing assets)
(note)Medium- to long-term targets for expense ratio (approx. 60%) is unchanged
(Outlook of economics and business)
outlook was made under certain assumptions regarding the spread of the COVID-19 vaccine, restrictions on activity, and economic measures.
We expect the recovery pace will be moderate and may be different depends on each region as it is required to prevent the expansion of the pandemic.
(Assumption of financial indicators)
JGB 10-year interest rate:0.1%, Nikkei Stock Average:JPY29,000–JPY30,000, JPY/USD:JPY100–JPY105
Plan of net operating profits(note1)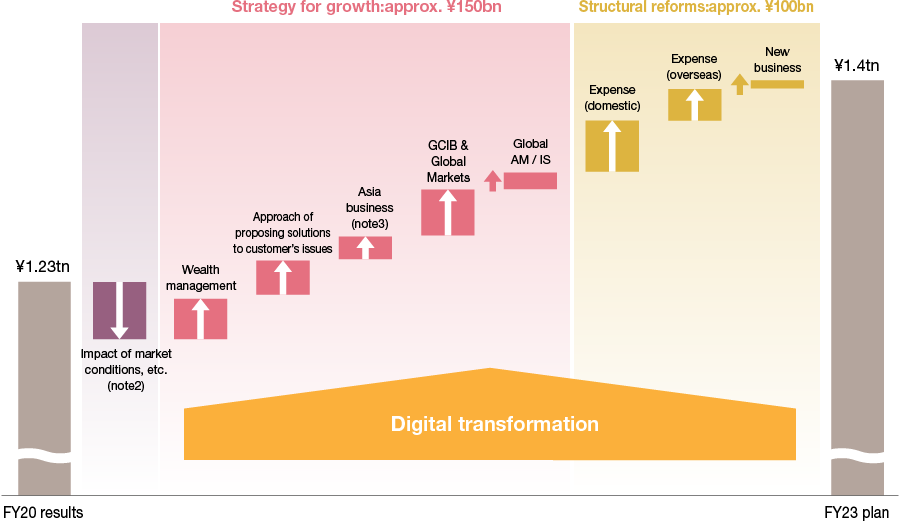 (note1) Managerial accounting basis. Local currency basis.
(note2) Includes CVA related profits/losses, an impact of policy-interest rate cut in Asia etc.
(note3) FY23 plan versus FY21 plan. Estimated decrease in net operating profits during FY21 is included in impact of market conditions, etc.