Enhancing Our Corporate Value through Committed Engagement with Stakeholders
MUFG believes that winning the support of its various stakeholders is essential to securing sustainable growth in its business activities and thus its corporate value. In line with this belief, we engage with stakeholders via a variety of channels and take heed of their expectations and requests to make improvements in our business management.
MUFG's Channels for Communication with Stakeholders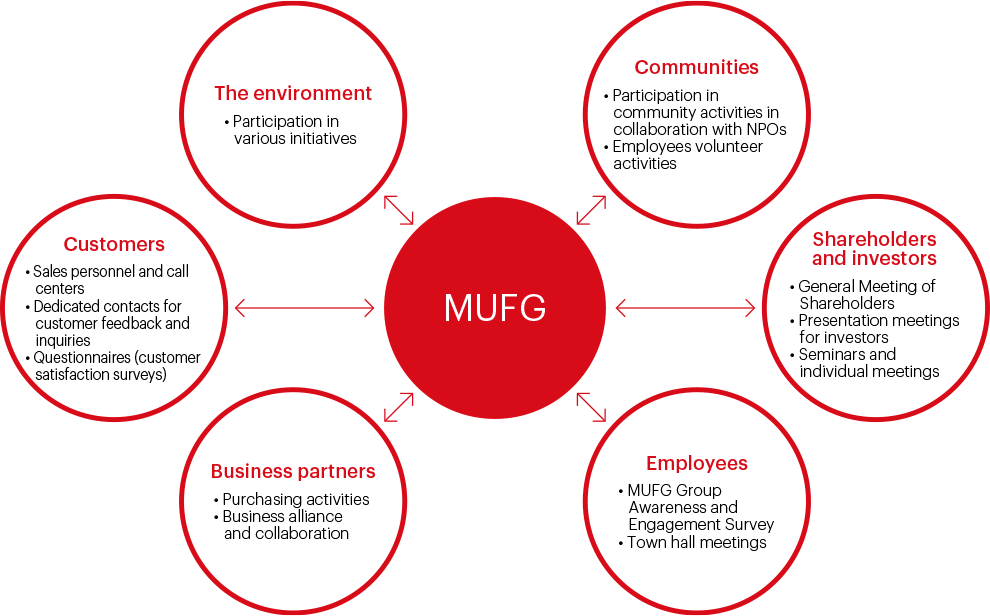 Staging of Dialogue with Stakeholders
In November 2018, MUFG invited five experts to take part in dialogue with stakeholders on the following agenda.
MUFG's ESG initiatives – Dual approach of business strategy and risk management contributing to resolution of environmental and social issues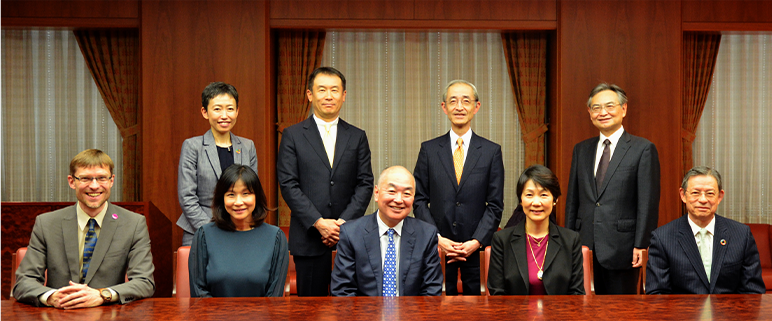 The experts *In the photograph, starting from the front row, left side
Peter D. Pedersen:
Representative, TACL (The Academy for Corporate Leadership)
Yumiko Murakami:
Head, Tokyo Centre, The Organization for Economic Co-operation and Development
Rintaro Tamaki:
President, Japan Center for International Finance (JCIF)
Yoshiko Sato:
Managing Director, Japan Investor Relations Association
Takejiro Sueyoshi:
Special Advisor, United Nations Environment Programme Finance Initiative
Participants from MUFG
Nobuyuki Hirano:
Member of the Board of Directors, President and Group CEO
Muneaki Tokunari:
Senior Managing Corporate Executive and Group CFO
Masamichi Yasuda:
Senior Managing Corporate Executive and Group CRO
Naomi Hayashi:
Managing Corporate Executive and Group CSO
(In charge of the Corporate Planning Division, Corporate Administration Division, and Corporate Communications Division, and in sub-charge of Digital Transformation Division)

Moderator
Saiko Nanri:
Executive Officer and Managing Director, Head of Corporate Communications Division
Titles and positions of participants are current as of the end of November 2018
Approach to opportunities, risks, and disclosure regarding ESG
Ms. Sato: Risks and opportunities are two sides of the same coin, so business risks can become opportunities. It's important to strive for quantitative gauging and providing good explanation of concrete actions over the scope that can be controlled. It is necessary for short-term, medium-term and long-term goals to be connected, and to set a solid policy for the future, while frankly conveying the short-term issues.

Mr. Tamaki: Since talk about climate change has become inextricably linked to financial information, concerning the method of disclosure too, it is desirable to discuss conventional financial information and non-financial information together. Unless climate change is recognized within business, it can pose a risk to management.

Mr. Pedersen: To make a contribution over all three themes of opportunities, risks, and information disclosure, it is important to pin one's colors to the mast and exhibit leadership through pioneering initiatives. If MUFG takes steps with a spirit of being a world leader in terms of sustainable finance, numerous positive ripple effects are sure to arise from there.
Mr. Sueyoshi: Concerning the response to climate change, the fountainhead of MUFG's trust lies in sharing and announcing its goals with the world. I also expect MUFG to display leadership by proposing policies for supporting renewable energy in Japan and holding dialogue with the government.

Mr. Pedersen: As a leading company, it needs to display leadership in "pioneering a sustainable future" and have a solid sustainability strategy.

Mr. Tamaki: I think that SDGs and ESG in finance converge into sustainable finance. We should address them in the mainstream of management while staying aware of developments in Europe and America. This will lead to sharing of goals with the world and reduction of business risks.

Ms. Murakami: To address the critical global issue of "divide", I think the key is to consider "how to create high-quality employment". Providing opportunities and creating an environment in which people in the overall community including MUFG's employees can upgrade their skills in the digital society will help to enhance the corporate value in the long term. I hope that MUFG can present a model for Japan, where digitization is arising simultaneously with a declining birthrate.
Engagement with Communities, Local Societies and the Environment
MUFG employees proactively participate in volunteer activities and local events as members of the communities they serve. Such efforts are intended to enhance interaction with other community members and nurture ties with them.

At the same time, MUFG engages with NGOs and NPOs that work to resolve issues society is confronting, incorporating the insights and advice such bodies provide into its environmental, social and governance (ESG) initiatives. Moreover, MUFG takes part in a variety of external collaborative initiatives to address ESG issues and engages in dialogue with other participants. By doing so, MUFG strives to maintain the trust and confidence of local societies at home and abroad.
Dialogue with Shareholders and Investors
General Meeting of Shareholders
The 14th Annual General Meeting of Shareholders was held on June 27, 2019.
The number of attendees: 1,404

Reports were given on the status of key measures in the MUFG medium-term management plan, initiatives to address ESG issues, and capital policy, and lively questions and answers were conducted with nine shareholders. The meeting provided an excellent opportunity to interact with shareholders and enhance mutual understanding.
Large meetings for individual investors
Held on nine occasions in fiscal 2018; approximately 1,150 attendees
Large meetings for institutional investors
Held on 20 occasions in fiscal 2018
One on One meetings with institutional investors
Held on 542 occasions in fiscal 2018
(Of those, 409 meetings with overseas investors)
The 14th Annual General Meeting of Shareholders
Large meeting for individual investors
MUFG holds town hall meetings and round-table conferences aimed at enhancing mutual understanding between top management and employees and ensuring that MUFG's visions and policies are shared by all.

Furthermore, MUFG's executives often visit branches and interact with the frontline employees who directly engage with customers, exchanging insights about how to enhance MUFG's onsite capabilities. This interaction is an example of their efforts to create a better workplace in which employees' opinions are reflected in business operations and every employee finds their job rewarding.
Relations with Business Partners
MUFG works with a wide range of business partners, including institutions that provide financial products and services, and business alliance partners. We strive for fairness in all interactions with these business partners, and work to create value through collaboration.
Examples of Major Business Partnerships (Since January 2015)(As of July 31,2019)
Date
Business Partner
MUFG
Details
July
2019
African Trade Insurance Agency
MUFG Bank
Signing of a memorandum of understanding for cooperation on promotion of trade with and investment in Africa
June
2019
Batonz Co.Ltd
MUFG Bank
Business tie-up geared to reviewing the strengthening of support for business succession needs
May
2019
City of Toyohashi, Aichi
Mitsubishi UFJ NICOS
Start accepting tax payment by credit card
May
2019
Kyoto Prefecture
Mitsubishi UFJ NICOS
Start accepting tax payment by credit card
May
2019
City of Asaka, Saitama
Mitsubishi UFJ NICOS
Start accepting tax payment by credit card
April
2019
AlpacaJapan Co.,Ltd.
MUFG Bank
Business tie-up geared to reviewing the strengthening of functions for providing exchange information
April
2019
Linkers Co.,Ltd
MUFG Bank
Business tie-up geared to reviewing the strengthening of provision of business matching services
April
2019
Chukyo Bank
Mitsubishi UFJ NICOS
Accepted Assignment of Visa Debit Card Issuance Operations
April
2019
Taiko Bank
Mitsubishi UFJ NICOS
Accepted Assignment of Visa Debit Card Issuance Operations
April
2019
City of Tokai, Aichi
Mitsubishi UFJ NICOS
Start accepting tax payment by credit card
April
2019
City of Okazaki, Aichi
Mitsubishi UFJ NICOS
Start accepting tax payment by credit card
April
2019
City of Kofu, Yamanashi
Mitsubishi UFJ NICOS
Start accepting tax payment by credit card
February
2019
China Automotive Technology and Research Center Co., Ltd.
MUFG Bank
Signing of a memorandum of agreement for strategic cooperation on research, etc. of the automotive industry between Japan and China
January
2019
Kyodo Printing Co.,Ltd
Mitsubishi UFJ NICOS
Accepted assignment of a prepaid card business for corporate customers