MUFG Asset Management Website Launch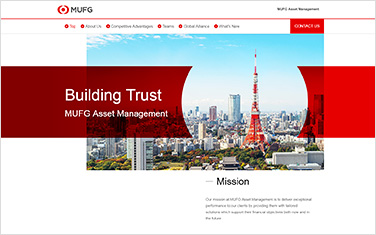 Mitsubishi UFJ Trust and Banking Corporation along with its subsidiaries, Mitsubishi UFJ Kokusai Asset Management Co., Ltd., MU Investments Co., Ltd., and Mitsubishi UFJ Asset Management (UK) Ltd., asset management companies in the Mitsubishi UFJ Financial Group (hereinafter referred to as "MUFG"), forming the "MUFG Asset Management" brand, launched its website.
This website contributes to enhance convenience for customers outside Japan by introducing MUFG's asset management business. At the same time, the new website represents MUFG's commitment to organic expansion of its asset management business outside Japan.
In MUFG's asset management business, we will continue to provide distinctive products and strengthen the provision of information to customers not only in Japan but also overseas.
MUFG Asset Management website: https://www.tr.mufg.jp/am/index.html