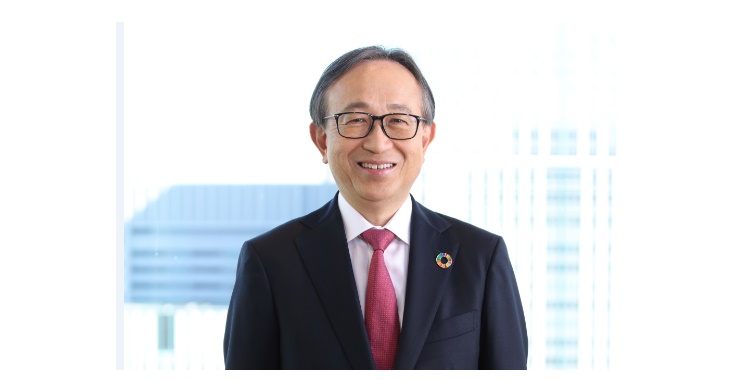 Message from Management
First of all, I would like to begin by expressing my deepest gratitude for your ongoing support of our operations.
Performance Results for the First Half of Fiscal 2018
During the first half of the fiscal year ending March 31, 2019, gross profits fell 125.5 billion yen year on year to 1,882.5 billion yen due mainly to a decrease in net gains on debt securities. Because of growing business expansion costs overseas and regulatory costs, etc. and despite ongoing efforts to tightly control costs in domestic operations, general and administrative (G&A) expenses rose slightly year on year. Consequently, net operating profits totaled 568.1 billion yen, down 132.6 billion yen year on year.
However, first half profits attributable to owners of parent amounted to 650.7 billion yen, up 23.8 billion yen year on year thanks to such factors as an improvement in total credit costs and growing profit contribution that Morgan Stanley has made. This figure represents 76% of our full-year target for profits attributable to owners of parent of 850.0 billion yen, which was announced at the beginning of the fiscal year, and attests to our steady forward progress.
Taking these circumstances into account, we have decided to upwardly revise this target from 850.0 billion yen to 950.0 billion yen.
As of September 30, 2018, MUFG's capital adequacy ratio remained robust at 12.02% (Common Equity Tier1 Capital ratio).
Enhancement of Shareholder Returns
In line with our basic policies for shareholder returns, we aim to raise our dividend payout ratio to 40% by fiscal 2023. For fiscal 2018, we intend to pay interim dividends of 11 yen per share, up 1 yen from the previous forecast announced at the beginning of the fiscal year. Furthermore, we have upwardly revised our forecast for year-end dividends by 1 yen to 11 yen per share. Thus, we expect our fiscal 2018 annual dividend to total 22 yen per share and the dividend payout ratio to grow to 30.3%. Looking ahead, we will strive to steadily increase cash dividends in a sustainable manner as we aim toward the aforementioned dividend payout ratio target of 40% by fiscal 2023.
During the first half of fiscal 2018, MUFG expended a total of 50.0 billion yen for share repurchases and intends to flexibly repurchase its own shares going forward. Currently, plans call for expending a maximum of 100.0 billion yen for this purpose in the second half and cancelling all repurchased shares. Along with securing financial soundness, the Company remains committed to executing tight capital management.
Toward Sustainable Growth
We launched the MUFG Re-Imagining Strategy in fiscal 2018. This strategy is designed to help us overcome various challenges coming our way and consists of a number of initiatives aimed at realizing the thoroughgoing transformation of MUFG's business model and bringing the Company back on the path of sustainable growth.
As part of these initiatives, we are focusing on digitalization. We began engaging in external collaboration to build a new payment platform employing advanced blockchain technologies. We also initiated verification testing aimed at developing an "information trust platform." Furthermore, the first "MUFG NEXT" branch showcasing our unique concept for futuristic banking services is slated to open in January 2019 at a newly renovated former conventional branch located near Tokyo's Gakugei-Daigaku station.
In addition, the functional realignment of business groups across MUFG is steadily under way, with the corporate loan-related business of the Bank and the Trust Bank having just been integrated. Moving on, we will ceaselessly strive to raise our capabilities to deliver optimal solutions to our customers and, to this end, promote an integrated, group-based sales approach.
In August 2018, MUFG additionally acquired shares in Indonesia-based Bank Danamon, securing 40% of this partner bank's equity. Moreover, in October we announced a strategic investment to acquire 100% of the shares in Colonial First State Global Asset Management, a major asset management firm in Australia. These are but a few of examples of our steady efforts to secure business growth in step with market growth.
MUFG is striving to overcome major changes in its operating environment and get back on a stable growth track. To this end, 150,000 Group employees operating in regions around the globe share an acute sense of urgency and are fully committed to swiftly executing structural reforms. Looking ahead, we ask for your continued support of our endeavors.
November 2018

Member of the Board of Directors, President & Group CEO
Related Information