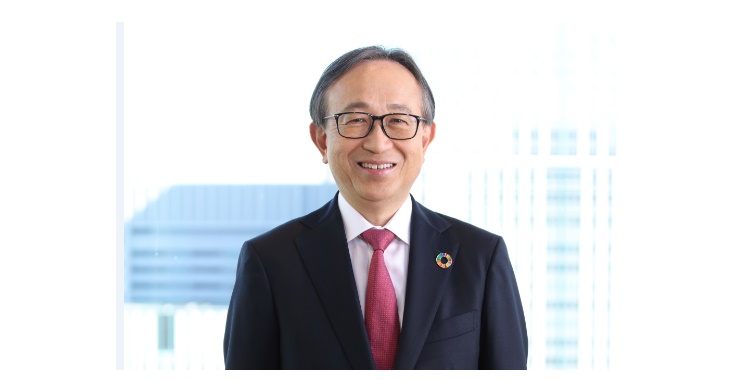 Message from Management
First of all, I would like to begin by expressing our deep gratitude for your ongoing support of our operations.
Performance Results for Fiscal 2018
During the fiscal year ended March 31, 2019, gross profits fell 128.5 billion yen year on year to 3,725.7 billion yen mainly due to a decrease in profits associated with the global markets business. General and administrative expenses rose 25.7 billion yen year on year due primarily to expenses associated with growing overseas operations and higher regulatory costs. Consequently, net operating profits totaled 1,078.5 billion yen, down 154.2 billion yen year on year.
Despite an improvement in total credit costs and the growing profit contribution of Morgan Stanley, profits attributable to owners of parent decreased 116.9 billion yen year on year to 872.6 billion yen, reflecting such factors as the recording of losses associated with the fundamental revision of the system integration plan for Mitsubishi UFJ NICOS Co., Ltd.
As of March 31, 2019, MUFG's capital adequacy ratio remained robust at 12.23% (Common Equity Tier1 Capital ratio).
As planned, we intend to pay year-end dividends of 11 yen per share for fiscal 2018. Including the interim dividends of 11 yen per share, the annual dividends for fiscal 2018 will amount to 22 yen per share. This represents a year-on-year increase of 3 yen per share. Furthermore, the dividend payout ratio will rise to 32.9%.
For fiscal 2019, we plan to increase annual dividends to 25 yen per share, up a further 3 yen per share from fiscal 2018. Going forward, we aim for a stable and sustainable increase in dividends per share to reach our target, a dividend payout ratio of 40%, at the earliest possible date.
Progress in the Medium-Term Business Plan
In line with the current medium-term business plan, we have been pursuing group-based, integrated management. Thanks to the understanding and support of customers, we were able to complete the integration of corporate loan-related businesses of the Bank and the Trust Bank.
With regard to strategic investment, efforts are steadily underway to seize opportunities arising from market growth. For example, we made Bank Danamon, an Indonesia-based major commercial bank, a consolidated subsidiary. We also agreed to acquire Colonial First State Global Asset Management, a global asset manager based in Australia.
To realize structural reforms and the re-imagining of MUFG, we have pushed ahead with the Eleven Transformation Initiatives. Overall progress in these initiatives is steady, despite some challenges in certain areas. As part of our digital strategies, we have jointly established Global Open Network, Inc. together with the U.S.-based Akamai Technologies, Inc. Global Open Network aims to offer a high-speed, large-capacity payment network service and is expected to commence full-fledged operations in the first half of 2020. We also opened MUFG NEXT, functionally specialized branches, while planning to launch a consulting office specializing in face-to-face consulting service in fiscal 2019. Through these efforts, we will develop a more sophisticated branch network capable of satisfying customer needs.
In addition, we made progress in our efforts to address environment, social and governance (ESG) issues. One of our initiatives aimed at drawing on MUFG resources to tackle urgent global issues includes setting numerical goals for sustainable finance, namely, extending a total of 20 trillion yen by the end of fiscal 2030. We also updated the MUFG Environmental and Social Policy Framework by, for example, incorporating a general prohibition against financing new coal fired power generation projects, with enforcement of the updated framework scheduled for July 2019.
Rallying the strength of each Group member, we are striving to transform our business model and achieve the re-imagining of MUFG. We are halfway through this process, and the economic environment remains harsh. Nevertheless, under the slogan "Let's build new trust," we are determined to provide what customers really need and satisfy their expectations through our products and services. With the aim of winning the confidence and trust of customers all around the globe, we will remain a forerunner in terms of innovation, thereby enhancing our corporate value. Looking ahead, we ask for your continued support of our endeavors.
May 2019
Kanetsugu Mike
President & Group CEO
Related Information