MUFG Way serves as the basic policy in conducting our business activities, and provides guidelines for all group activities.
MUFG Way also is the foundation for management decisions, including the formulation of management strategies and management plans, and serves as the core value for all employees.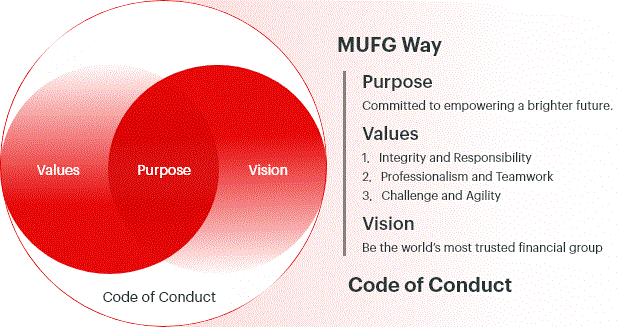 Committed to empowering a brighter future.
Integrity and Responsibility

Professionalism and Teamwork

Challenge Ourselves to Grow

– Be the world's most trusted financial group –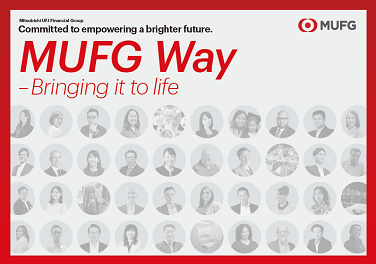 Here, we cover 35 different stories from colleagues from all over the world about empowering a brighter future.

The MUFG global logo is the symbol of our combined efforts as a premier financial group to comprehensively and flexibly respond to the financial needs of our customers. It is meant to evoke the breadth, relevance, and quality of the financial services that we generate through the collective efforts of the Group.
The MUFG global logo consists of two elements, both of which are critical: the Symbolmark and the MUFG global logotype.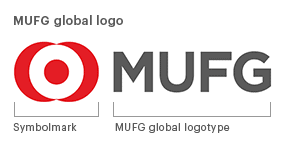 The Symbolmark for the Group features overlapping circles, which represent the "comprehensive financial services generated from the Group's collective efforts" and "friendly services that customers identify with".
In addition, the centre circle symbolises the synergy of the Group while the outside intersecting circles symbolise the Group's global scale, thereby representing the Group's goal to build a 'premier comprehensive global financial group' that provides high-quality services in all regions and in all business sectors".
MUFG global logotype story
The clean and straightforward design of the MUFG global logotype expresses stability and conveys a sense of timelessness that is unique to the MUFG brand. The design does not only symbolise the Group's ambition and confidence in what we do, but the look and feel of the MUFG global logotype also reinforces the Group's identity as a trustworthy and reliable financial institution.
MUFG Red and MUFG Grey are our official corporate colours, and are the predominant colours in the MUFG system.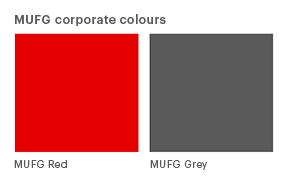 MUFG colour palette story
Though minimal and simple, the MUFG colour palette is a visual celebration of our brand's DNA. It symbolizes who we are as we deliver on MUFG Way.
Vibrant and energetic, the MUFG Red conveys a sense of dynamism and speaks to the financial group's ambition and drive to be a foundation of strength that fosters sustainable growth in our world. Moreover, MUFG Red and MUFG Grey complement each other to express a sense of strength and confidence. Together, they reinforce how we listen to our clients thoughtfully and place the highest priority on protecting their interests.
The MUFG colour palette is more than just aesthetics-it is a representation of who we are and reinforces that identity in every communication.