Inclusion & Diversity Initiatives
MUFG focuses on Inclusion and Diversity as one of the 10 Priority Issues in sustainability management.
In 2006, MUFG established a dedicated department to promote diversity as a corporate management strategy under the commitment of the top management. In particular, we consider the promotion of diversity from the viewpoint of gender to be an important issue, and we are working to develop the ability of women and promote their appointment in higher positions.
Our three main subsidiaries, the Bank, the Trust Bank and the Securities, set joint targets and report progress regularly at the executive committee.
In 2018, the Group started the integrated operation of the corporate center function. The three companies gather and work together to promote inclusion & diversity within the Group.
At the annual HR exchange meetings, people from HR departments of about 40 Group companies gather to share best practices and issues. By doing so, the Group companies are in full coordination and promote inclusion & diversity effectively.
In addition, we have assigned staff in charge of promoting Inclusion & Diversity in each region to effectively address each issue under global cooperation.
MUFG's Thinking on Inclusion & Diversity
At MUFG, our vision for promoting Inclusion & Diversity is identified as "Enlighten, Encourage, Empower - Work together as a Group to exceed customer expectations."
A chemical reaction occurs as diverse employees respect each other's differences, make the most of each other's characteristics, and grow with each other. New ideas and behavioral patterns born from this chemical reaction will help us create a free and vigorous culture and value that exceed the expectations of society and customers.
In order for MUFG to be committed to empowering a brighter future, we believe that investment in Inclusion & Diversity is essential.

Meaning of "Equity" in MUFG ~Roundtable Discussion—Inclusion & Diversity
Head of Global HR interviewed regional leaders of Inclusion & Diversity about the necessity of a global strategy, initiatives and "Equity" in each region, and future direction.

Our history of Inclusion & Diversity Initiatives
Our initiatives since 2006 are as shown below. Initially, our main objective was to improve the job satisfaction of female employees, However, since 2010, we have expanded the scope of our initiatives with the aim of improving the job satisfaction of not only female employees but also diverse employees. Moving forward, we will further focus our efforts on creating workplaces where all employees of the Group can demonstrate their unique strengths and make diversity empower a brighter future.
Representative Initiatives by Group Companies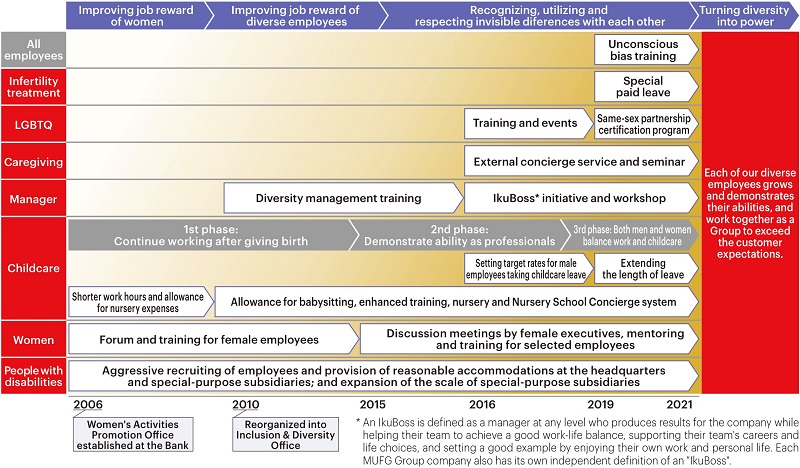 MUFG's compensation system for Executives, etc. is not only aimed at ensuring the achievement of short-term performance targets but also intended to better incentivize these individuals to contribute to a medium- to long-term improvement in corporate value and encourage them to take on the challenge of driving innovation.
In FY2022, we also added inclusion & diversity targets to qualitative assessment indicators for determining the amount of bonuses vis-à-vis the execution status of the recipients' duties, in order to facilitate management efforts to promote and secure the robust employee understanding of inclusion & diversity.
Evaluation for Inclusion & Diversity Initiatives
For evaluation related to our Inclusion & Diversity initiatives, please refer to "
External Evaluation.
"