MUFG's goal in CSR
Financial institutions have a responsibility to help stabilize and maintain financial systems and contribute to the sound growth of society. MUFG's goal in CSR is to contribute to solve social issues through our core financial businesses as well as fulfilling our inherent social mission as the foundation of society and realize sustainable society. We work to fulfill our corporate social responsibility through our business, using our Corporate Vision and MUFG Group Code of Conduct as guidelines.
・Corporate Vision
・Code of Conduct
CSR Structure of MUFG
We develop a CSR promotion framework integrated with our group management strategies.
CSR Structure of MUFG
In order to promote Group-wide CSR activities, we have established the Corporate Social Responsibility Committee, primarily consisting of members of the Executive Committee of the Mitsubishi UFJ Financial Group. As a general rule, the Committee meets twice a year to debate over the Group-wide policy for CSR activities, develop its measures and strengthen cooperation among all the group companies of MUFG. In line with the Group-wide CSR policy, we promote CSR activities leveraging characteristics of each company.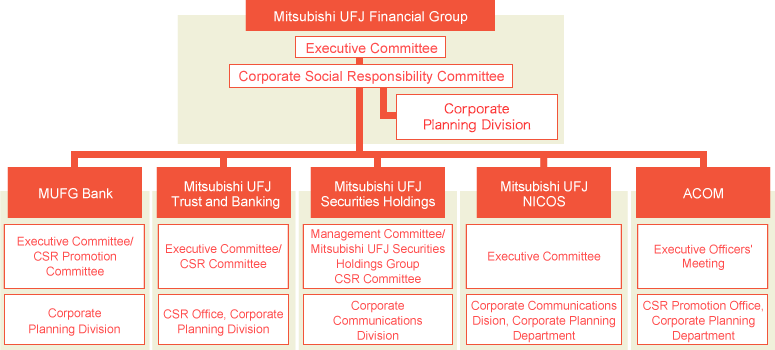 CSR Materiality
(As of November 2018)